Everyday there will be an opportunity to Frown or to Smile, to Drown or to Dance, to be Sad or to be Glad. It's a Choice! -RVM Author
Published On: September 19th 2017, Tuesday @ 11:16:44 PM
Total Number of Views: 77
Categories: Inspirational
More Quotes Like this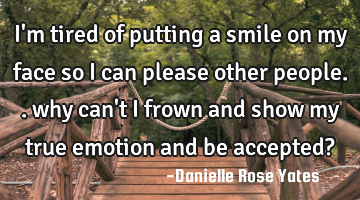 I'm tired of putting a smile on my face so I can please other people.. why can't I frown and show..
Anger Hate Loneliness Sad Fear
People
Smile
Face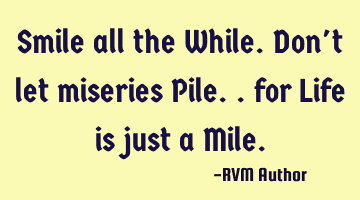 Smile all the While. Don't let miseries Pile.. for Life is just a Mile...
Inspirational Life Short smile
Life
Smile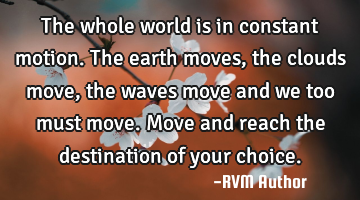 The whole world is in constant motion. The earth moves, the clouds move, the waves move and we too..
World
Earth
Choice
Reach
Not truly living in the present moment & later regretting is like closing your eyes when a peacock..
Want
Living
Moment
Present
Success is not happiness, this truth you must know. You may have everything, but what's the use of..
Happiness Inspirational Success Truth
Know
Truth
Success
Happiness
Smile
You have to make the choice. Either get up once more and try again, or stop moving forward and..
Change Inspirational Life Success Positive Attitude
Try
Stop
Choice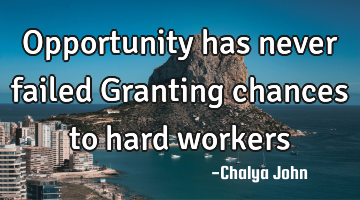 Opportunity has never failed Granting chances to hard..
Opportunity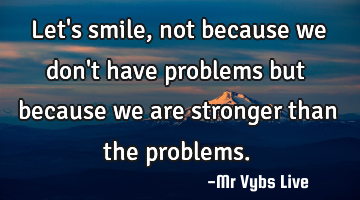 Let's smile, not because we don't have problems but because we are stronger than the..
Inspirational Life Relationship Success problems
Smile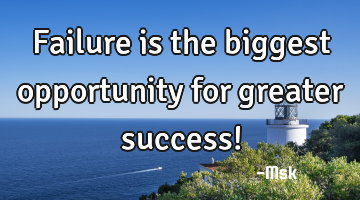 Failure is the biggest opportunity for greater success!..
Failure Inspirational Leadership Short One liners
Success
Failure
Opportunity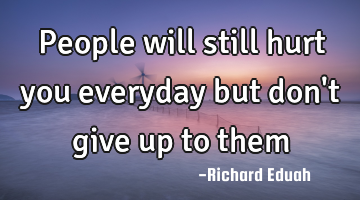 People will still hurt you everyday but don't give up to them..
Forgiveness Freedom Inspirational Short
People
Give
Hurt
Everyday