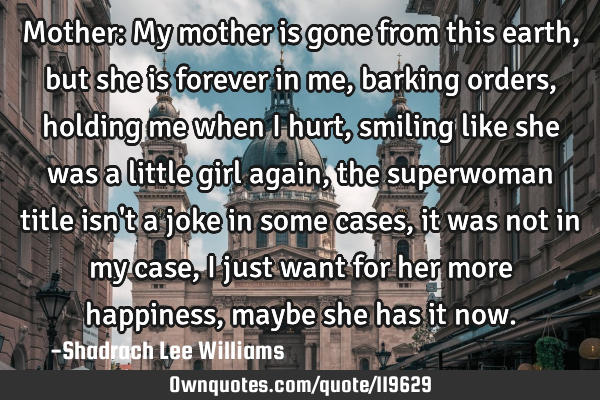 Mother: My mother is gone from this earth, but she is forever in me, barking orders, holding me when i hurt, smiling like she was a little girl again, the superwoman title isn't a joke in some cases, it was not in my case, i just want for her more happiness, maybe she has it now. -Shadrach Lee Williams
Published On: September 28th 2017, Thursday @ 4:28:07 PM
Total Number of Views: 62
Categories: Faith Family Happiness Life Love Relationship
More Quotes Like this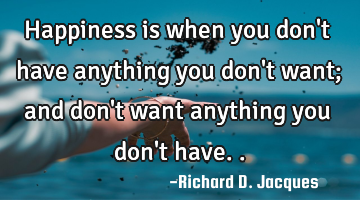 Happiness is when you don't have anything you don't want; and don't want anything you don't..
Happiness Life Philosophy Short Wisdom
Want
Happiness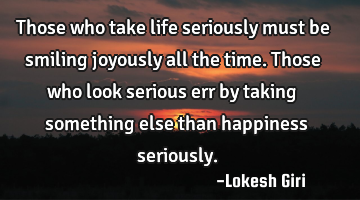 Those who take life seriously must be smiling joyously all the time. Those who look serious err by..
Life
Time
Look
Happiness
Taking
Kids, Here is an advice you must listen to in order to keep happiness : Don't grow up!..
Keep
Happiness
Grow
Listen
Order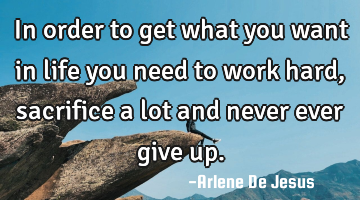 In order to get what you want in life you need to work hard, sacrifice a lot and never ever give..
Life Short Wisdom Positive Attitude Work
Life
Want
Need
Give
Work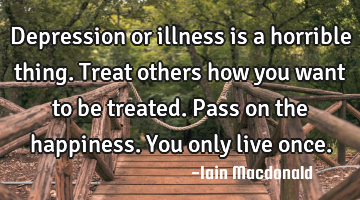 Depression or illness is a horrible thing. Treat others how you want to be treated. Pass on the..
Want
Happiness
To let go, is probably difficult but it will bring you happiness in the long run. Holding on to the..
Hope Inspirational Love Optimism Relationship
Happiness
Fear
Bring
Run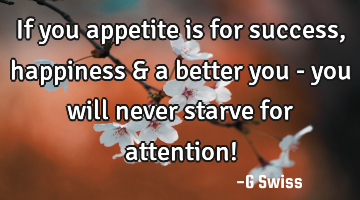 If you appetite is for success, happiness & a better you - you will never starve for attention!..
Happiness Life Love Music Short
Success
Happiness
Attention
When you're happy with the little things in life.. that's true..
Life
Happy
Happiness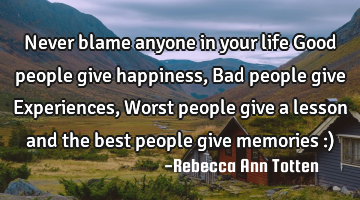 Never blame anyone in your life Good people give happiness, Bad people give Experiences, Worst..
Education Family Friendship Life Relationship
Life
People
Give
Bad
Happiness