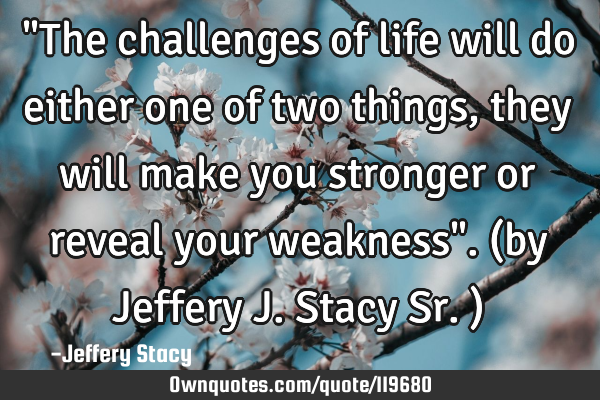 "The challenges of life will do either one of two things, they will make you stronger or reveal your weakness". (by Jeffery J. Stacy Sr.) -Jeffery Stacy
Published On: September 30th 2017, Saturday @ 4:25:09 AM
Total Number of Views: 52
Categories: Confidence Hope Inspirational Leadership Life Opportunity Sports Success Time Wisdom
More Quotes Like this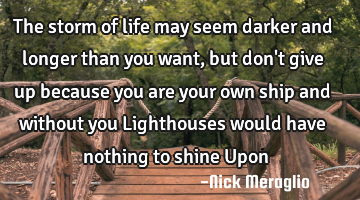 The storm of life may seem darker and longer than you want, but don't give up because you are your..
Confidence Desire Dreams Hope Inspirational
Life
Want
Give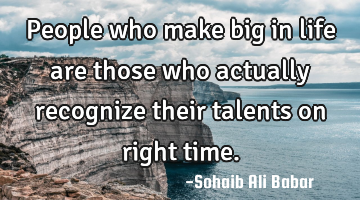 People who make big in life are those who actually recognize their talents on right..
Inspirational Life Opportunity Philosophy Success
Life
People
Time
Challenges do not make us strong or weak; they simply make us discover who we really are; either..
Courage Faith Hope Imagination Life
Strong
Life is what you make it. Your imagination is the only thing that will place you at a better stage..
Inspirational Life Success Truth Wisdom
Life
Place
Life and success is an immortal race, there is no finish..
Goal Inspirational Opportunity Success Wisdom
Life
Success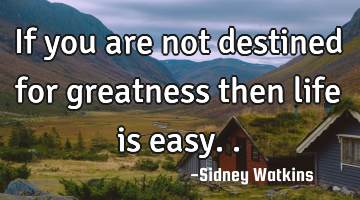 If you are not destined for greatness then life is..
Dreams Faith Goal Inspirational Leadership
Life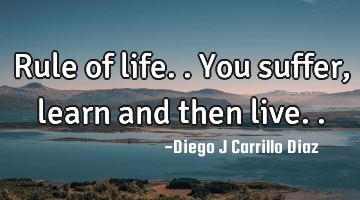 Rule of life.. You suffer, learn and then..
Confidence Goal Hope Inspirational Life
Life
Learn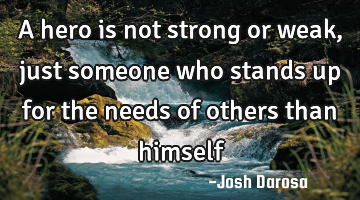 A hero is not strong or weak, just someone who stands up for the needs of others than..
Confidence Imagination Short Wisdom
Strong