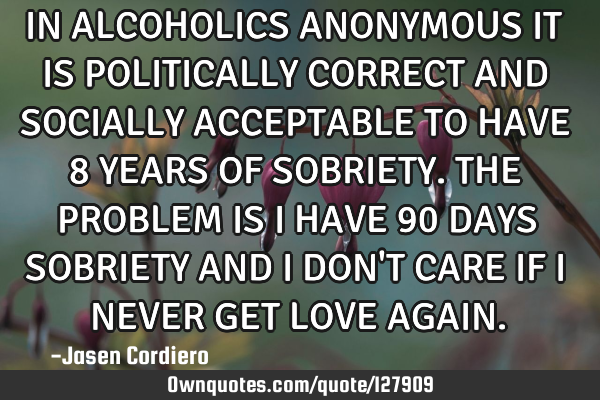 IN ALCOHOLICS ANONYMOUS IT IS POLITICALLY CORRECT AND SOCIALLY ACCEPTABLE TO HAVE 8 YEARS OF SOBRIETY. THE PROBLEM IS I HAVE 90 DAYS SOBRIETY AND I DON'T CARE IF I NEVER GET LOVE AGAIN. -Jasen cordiero
Published On: February 13th 2018, Tuesday @ 11:43:37 AM
Total Number of Views: 47
Categories: Confidence Family Funny Imagination Inspirational Love Romantic
More Quotes Like this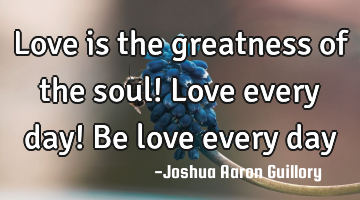 Love is the greatness of the soul! Love every day! Be love every..
Freedom Happiness Heart Love Peace
Love
Day
Soul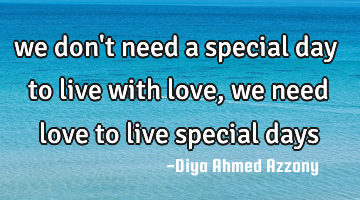 We don't need a special day to live with love, we need love to live special days..
Love
Day
Need
Even if I'm not the one who makes your day complete.. but I can be the one who will love you till..
Love
Day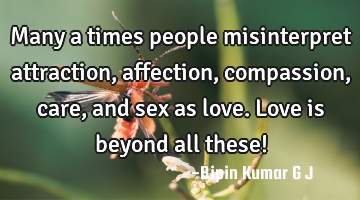 Many a times people misinterpret attraction, affection, compassion, care, and sex as love. Love is..
Love
People
Care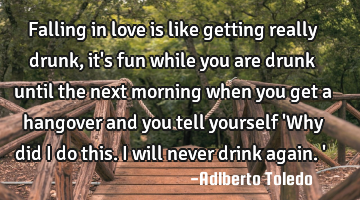 Falling in love is like getting really drunk, it's fun while you are drunk until the next morning..
Desire Funny Life Love Marriage
Love
If you love and care for me, tell me while I'm alive. Don't send me flowers and write a poem when I'..
Inspirational Love Poems Relationship Truth
Love
Care
Love will die if held too tightly , love will fly if held too..
Love Philosophy Relationship Short
Love
Die