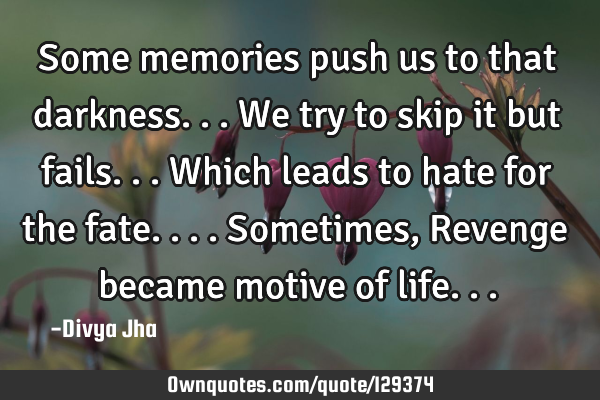 Some memories push us to that darkness... We try to skip it but fails... Which leads to hate for the fate.... Sometimes, Revenge became motive of life... -Divya Jha
Published On: February 25th 2018, Sunday @ 8:06:53 PM
Total Number of Views: 52
Categories: Change Confidence Courage Desire Failure Forgiveness Hate Imagination Life Patience Sad Time Truth War Youth Fear
More Quotes Like this
Love is the path of light, hate is the path of darkness. With love you lead a happy life. With Hate..
Love
Life
Happy
Hate
Light
'I love you' and 'i hate you' have 8 alphabets each, so don't be surprised if he comes to profess..
Change Desire Friendship Hate Life
Love
Being
Hate
Today
Tomorrow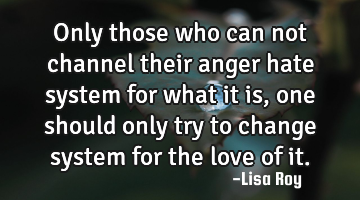 Only those who can not channel their anger hate system for what it is, one should only try to..
Love
Change
Try
Hate
Anger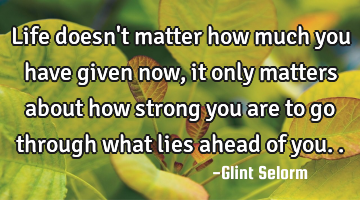 Life doesn't matter how much you have given now, it only matters about how strong you are to go..
Change Confidence Inspirational Life Patience
Life
Matter
Strong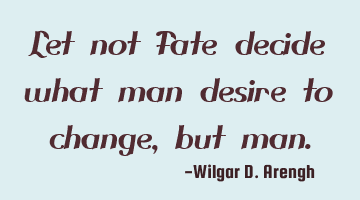 Let not Fate decide what man desire to change, but..
Change Courage Desire Faith Freedom
Change
Desire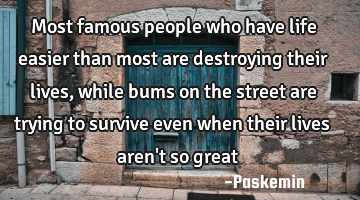 Most famous people who have life easier than most are destroying their lives, while bums on the..
Anger Change Courage Death Freedom
Life
People
Trying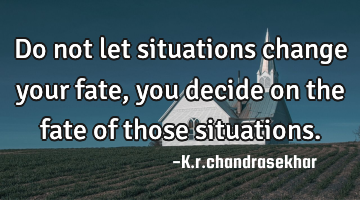 Do not let situations change your fate, you decide on the fate of those..
Change Courage Failure Inspirational Life
Change
Life is the script, we are the actors and fate is the..
Life