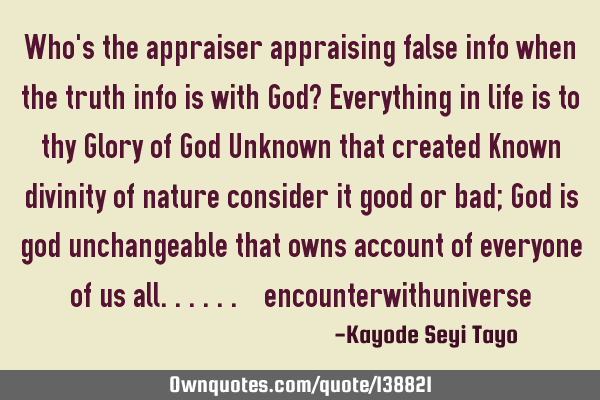 Who's the appraiser appraising false info when the truth info is with God? Everything in life is to thy Glory of God Unknown that created Known divinity of nature consider it good or bad; God is god unchangeable that owns account of everyone of us all...... #encounterwithuniverse -Kayode Seyi Tayo
Published On: August 10th 2018, Friday @ 2:30:54 AM
Total Number of Views: 34
Categories: God Inspirational Nature Philosophy Wisdom
More Quotes Like this
If truth is indeed unchangeable definitely lie is..
Change Philosophy Truth Witty One liners
Truth
Lie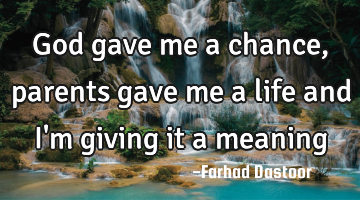 God gave me a chance, parents gave me a life and i'm giving it a..
Creativity God Opportunity Optimism Philosophy
Life
God
Chance
The beauty, grace, and glory of her heart Reveals the heavenly treasures of God, Of life, nature,..
Life
God
World
Heart
Beauty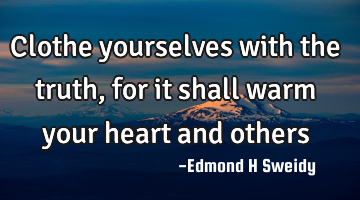 Clothe yourselves with the truth, for it shall warm your heart and..
Heart Love Philosophy Religion Short
Heart
Truth
God is peace; religion is man's attempt to commune with God; and war is the worst result of man's..
Faith Failure God History Inspirational
God
Peace
Failure
War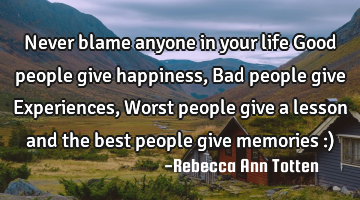 Never blame anyone in your life Good people give happiness, Bad people give Experiences, Worst..
Education Family Friendship Life Relationship
Life
People
Give
Bad
Happiness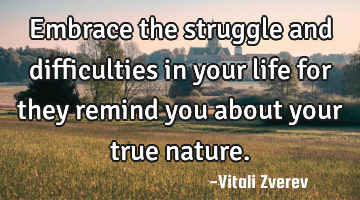 Embrace the struggle and difficulties in your life for they remind you about your true..
Life
Nature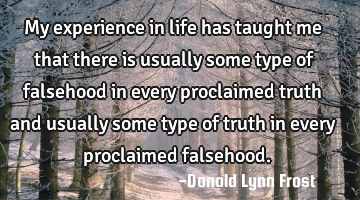 My experience in life has taught me that there is usually some type of falsehood in every..
Life
Truth
Experience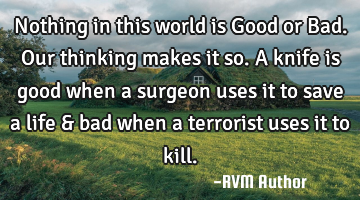 Nothing in this world is Good or Bad. Our thinking makes it so. A knife is good when a surgeon uses..
Life
World
Bad
Thinking