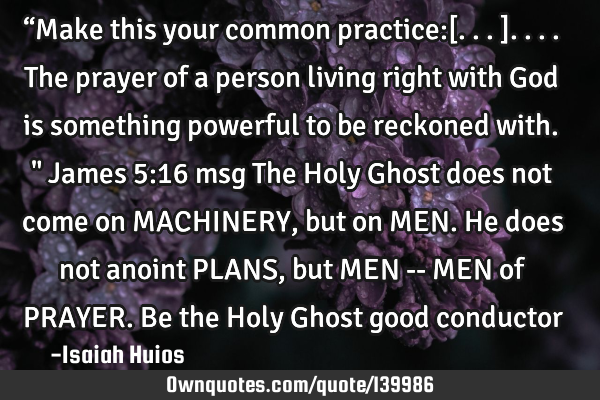 "Make this your common practice:[...]....The prayer of a person living right with God is something powerful to be reckoned with." James 5:16 msg •The Holy Ghost does not come on MACHINERY, but on MEN. •He does not anoint PLANS, but MEN -- MEN of PRAYER. Be the Holy Ghost good conductor -Isaiah Huios
Published On: August 28th 2018, Tuesday @ 2:44:46 PM
Total Number of Views: 35
Categories: Confidence Faith Forgiveness Goal God Heart Hope Imagination Peace Success Truth Wisdom Youth
More Quotes Like this
God is peace; religion is man's attempt to commune with God; and war is the worst result of man's..
Faith Failure God History Inspirational
God
Peace
Failure
War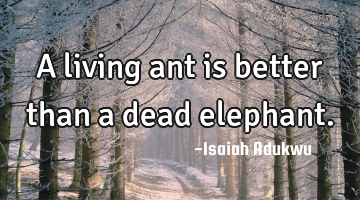 A living ant is better than a dead..
Confidence Faith Friendship Goal Short
Living
An idea without a plan is nothing more than a..
Dreams Goal Inspirational Life Philosophy
Dream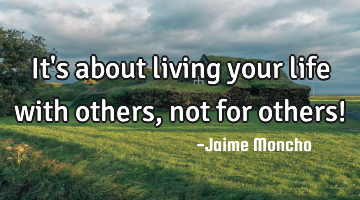 It's about living your life with others, not for others!..
Family Heart Life Marriage Relationship
Life
Living
Your dreams come true when you're brave enough to sacrifice your current reality for the one you..
Dreams Inspirational Philosophy Success Wisdom
Living
Reality
Living is not about seeing, . It's about being. Silence and acceptance can give the answers we..
Failure Hope Inspirational Life Opportunity
Time
Being
Give
Living
Open