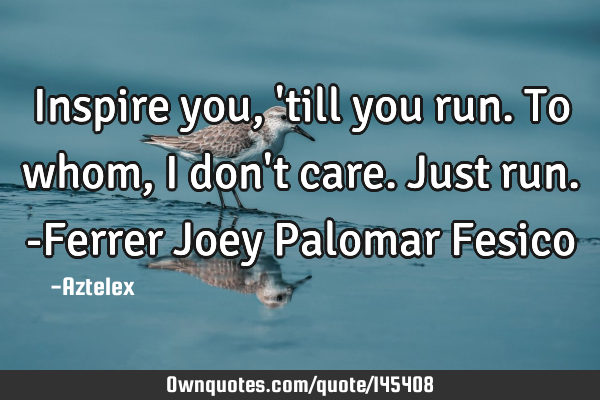 Inspire you, 'till you run. To whom, I don't care. Just run. -Ferrer Joey Palomar Fesico -aztelex
Published On: November 06th 2018, Tuesday @ 9:46:17 PM
Total Number of Views: 23
Categories: Inspirational Love
More Quotes Like this
To let go, is probably difficult but it will bring you happiness in the long run. Holding on to the..
Hope Inspirational Love Optimism Relationship
Happiness
Fear
Bring
Run
Don't run for credits, run for the values instead. The credits are to be returned someday, But..
Run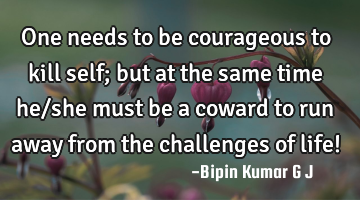 One needs to be courageous to kill self; but at the same time he/she must be a coward to run away..
Life
Time
Self
Run
Kill
If you love and care for me, tell me while I'm alive. Don't send me flowers and write a poem when I'..
Inspirational Love Poems Relationship Truth
Love
Care
Dead
Alive
You can get it if you want it. You'll have it when you need it. If you take care of yourself you'd..
Want
Need
Care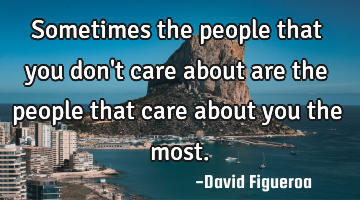 Sometimes the people that you don't care about are the people that care about you the..
People
Care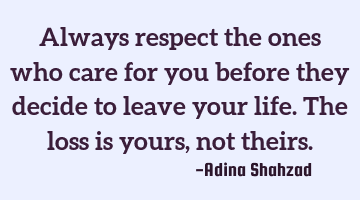 Always respect the ones who care for you before they decide to leave your life. The loss is yours,..
Life Love Relationship heart break respect
Life
Care
Respect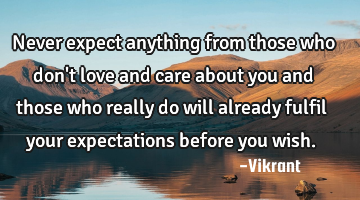 Never expect anything from those who don't love and care about you and those who really do will..
Love
Care
Wish
Expect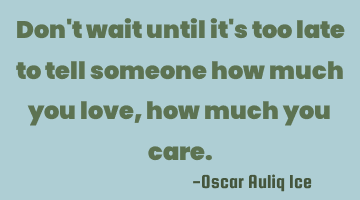 Don't wait until it's too late to tell someone how much you love, how much you..
Love
Care
Wait