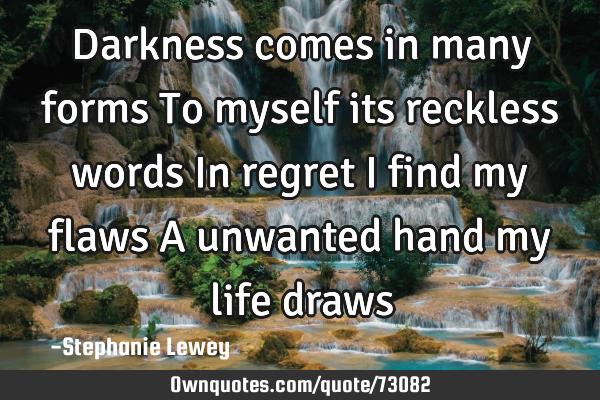 Darkness comes in many forms To myself its reckless words In regret I find my flaws A unwanted hand my life draws -Stephanie Lewey
Published On: December 01st 2015, Tuesday @ 7:55:30 AM
Total Number of Views: 138
Categories: Relationship
More Quotes Like this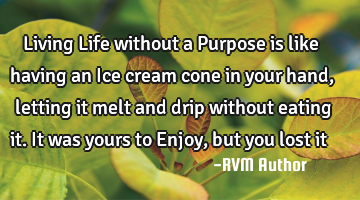 Living Life without a Purpose is like having an Ice cream cone in your hand, letting it melt and..
Life
Living
Lost
Enjoy
Hand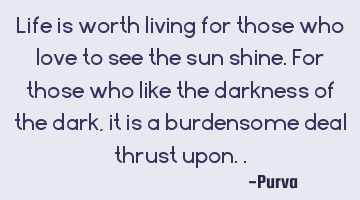 Life is worth living for those who love to see the sun shine. For those who like the darkness of..
Love
Life
Living
Worth
Darkness
Old people always poke me at weddings, saying you are next. so I started doing it at funerals.. ,..
Life
People
Game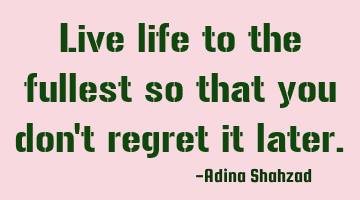 Live life to the fullest so that you don't regret it..
Inspirational Life Short One liners
Life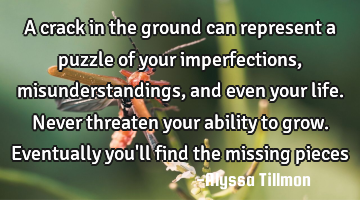 A crack in the ground can represent a puzzle of your imperfections, misunderstandings, and even..
Inspirational Life Success Truth
Life
Find
Grow
Ability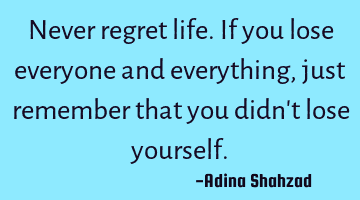 Never regret life. If you lose everyone and everything, just remember that you didn't lose..
Life
Remember