Pt. 3 What now, little one? I've shown you both, the all consuming blackness of the Abyss, and the blinding light of the Sun. Each has their monsters, they simply wear different masks. One cannot survive without the other. To be true, you must find balance. You must not succumb to just one...or you'll become consumed. If you are, you have near no chance of survival...unless you have someone to bring you back. I became a monster, a shell of what I was. I was taken by the dark. I lost my will to live. I don't know how she brought me back...but once I saw her again...she cried for me. What a monster I must have become in the dark. She embraced me, I began to cry. She went to such a distance...just to bring one person back. She wouldn't let me go. I didn't think I was worth that much to anyone. Don't forget that little one. Whether you burn to ash from the sun...or lose yourself to the Abyss. Someone will remember what you once were. They will not let you lose. They are more. -Tanner Carty
Published On: June 24th 2016, Friday @ 10:50:40 AM
Total Number of Views: 156
Categories: Friendship Hope Optimism Peace Sad
More Quotes Like this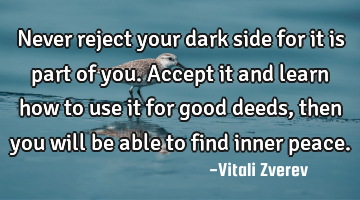 Never reject your dark side for it is part of you. Accept it and learn how to use it for good deeds,..
Peace
Find
Learn
Accept
Able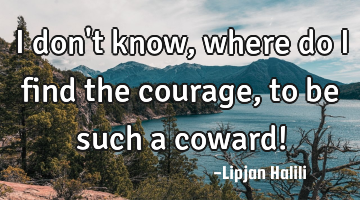 I don't know, where do I find the courage, to be such a coward!..
Anger Courage Failure Funny Life
Know
Find
Courage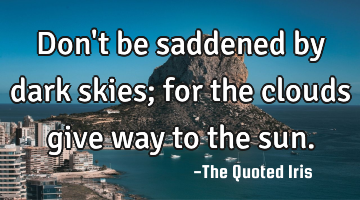 Don't be saddened by dark skies; for the clouds give way to the..
Inspirational Optimism Philosophy
Way
Give
Dark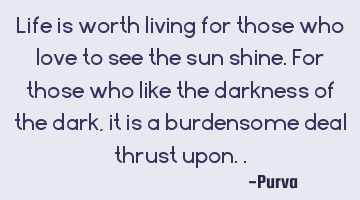 Life is worth living for those who love to see the sun shine. For those who like the darkness of..
Love
Life
Living
Worth
Darkness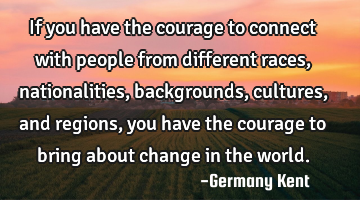 If you have the courage to connect with people from different races, nationalities, backgrounds,..
Hope Inspirational Optimism Motivational
People
World
Change
Different
Bring
Your eyes lead you through the light but your heart will guide you through the..
Heart
Light
Dark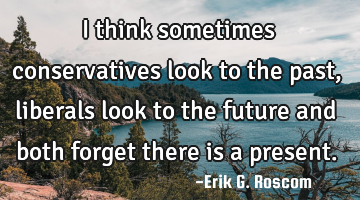 I think sometimes conservatives look to the past, liberals look to the future and both forget there..
Life Patriotism Philosophy Politics
Think
Look
Future
Past
Forget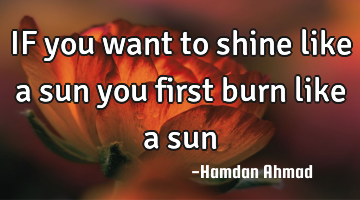 IF you want to shine like a sun you first burn like a..
Want