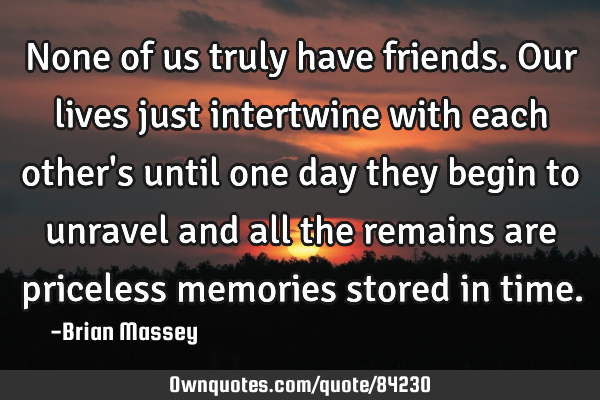 None of us truly have friends. Our lives just intertwine with each other's until one day they begin to unravel and all the remains are priceless memories stored in time. -Brian Massey
Published On: June 25th 2016, Saturday @ 1:36:55 AM
Total Number of Views: 133
Categories: Friendship Life Wisdom
More Quotes Like this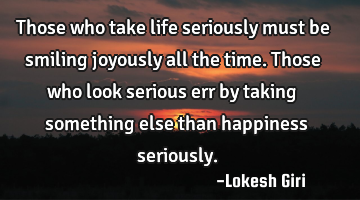 Those who take life seriously must be smiling joyously all the time. Those who look serious err by..
Life
Time
Look
Happiness
Success is what you achieve, and beauty what you inherit. So it's up to you, you give importance to..
Life Love Marriage Opportunity Relationship
Time
Give
Success
Beauty
People and things change but principles and values remain unchanged. Always uphold..
People
Change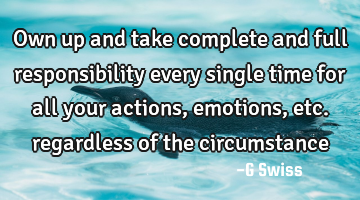 Own up and take complete and full responsibility every single time for all your actions, emotions,..
Courage Failure Forgiveness Life Truth
Time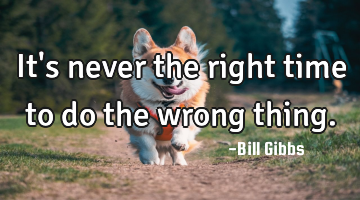 It's never the right time to do the wrong..
Faith Inspirational Leadership Life Success
Time
Wrong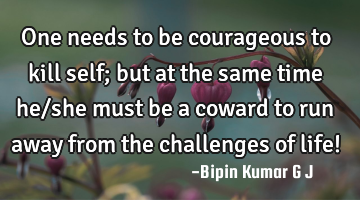 One needs to be courageous to kill self; but at the same time he/she must be a coward to run away..
Life
Time
Self
I never had time to understand what life is, I was busy..
Life
Time
Living
Understand
Rich are those who have time, and right people to spend..
Friendship Philosophy Short Time
People
Time