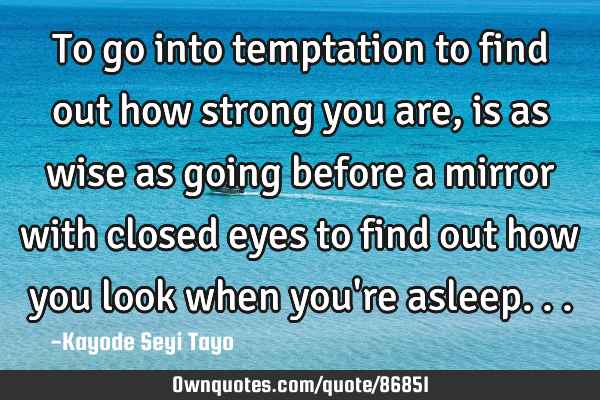 To go into temptation to find out how strong you are, is as wise as going before a mirror with closed eyes to find out how you look when you're asleep... -Kayode Seyi Tayo
Published On: August 02nd 2016, Tuesday @ 11:03:23 AM
Total Number of Views: 147
Categories: Dreams Inspirational Life Philosophy Wisdom
More Quotes Like this
That fish do great in water does not make the sea a paradise for birds; you have got to find where..
Find
Challenges do not make us strong or weak; they simply make us discover who we really are; either..
Courage Faith Hope Imagination Life
Strong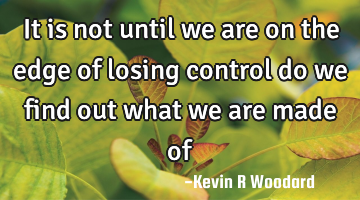 It is not until we are on the edge of losing control do we find out what we are made..
Courage Dreams Freedom Happiness Inspirational
Find
Control
If you get angry at someone, step back. Then look at their inner..
Beauty Inspirational Patience Philosophy Short
Look
Beauty
Our lives are like a mosaic with everything we do adding a little piece and like a mosaic often the..
Look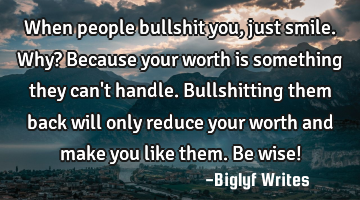 When people bullshit you, just smile. Why? Because your worth is something they can't handle. B..
Inspirational Life Philosophy Truth Wisdom
People
Smile
Worth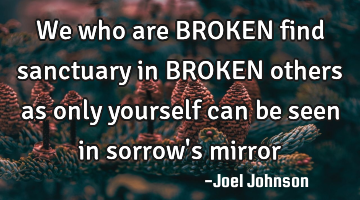 We who are BROKEN find sanctuary in BROKEN others as only yourself can be seen in sorrow's..
Friendship Heart Loneliness Poems Relationship
Find
Broken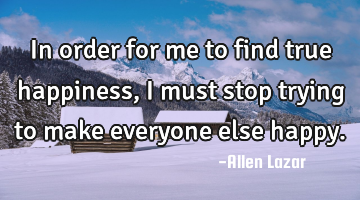 In order for me to find true happiness, I must stop trying to make everyone else..
Inspirational Philosophy Truth Wisdom
Find
Happy
Happiness
Stop
Trying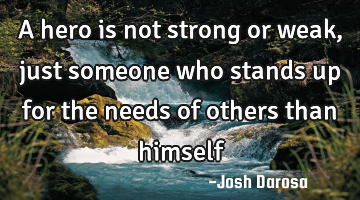 A hero is not strong or weak, just someone who stands up for the needs of others than..
Confidence Imagination Short Wisdom
Strong