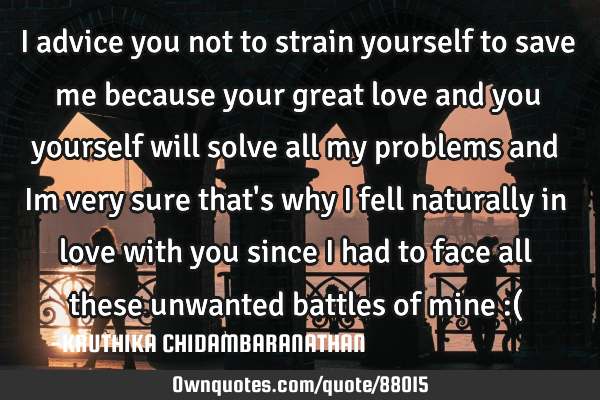 I advice you not to strain yourself to save me because your great love and you yourself will solve all my problems and Im very sure that's why I fell naturally in love with you since I had to face all these unwanted battles of mine :( -KRUTHIKA CHIDAMBARANATHAN
Published On: August 17th 2016, Wednesday @ 2:18:44 PM
Total Number of Views: 114
More Quotes Like this
Forgetting the problem doesn't solve the..
Life Philosophy Short One liners
Problem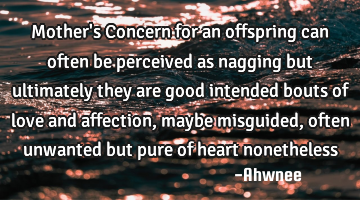 Mother's Concern for an offspring can often be perceived as nagging but ultimately they are good..
Love
Heart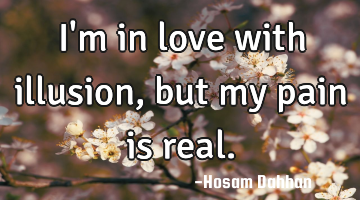 I'm in love with illusion, but my pain is..
Heart Life Loneliness Love Relationship
Love
Pain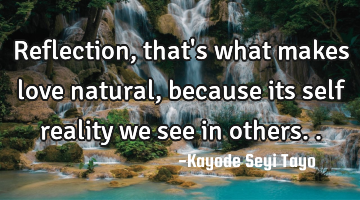 Reflection, that's what makes love natural, because its self reality we see in..
Friendship Heart Love Relationship Truth
Love
Self
Reality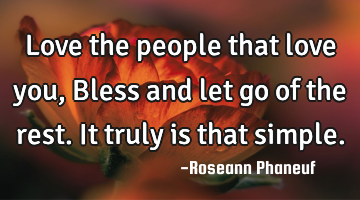 Love the people that love you, Bless and let go of the rest. It truly is that..
Desire Dreams Happiness Love Peace
Love
People
Love will die if held too tightly , love will fly if held too..
Love Philosophy Relationship Short
Love
Die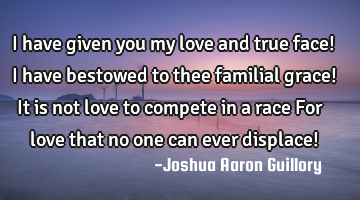 I have given you my love and true face! I have bestowed to thee familial grace! It is not love to..
Freedom Happiness Love Peace Truth
Love
Face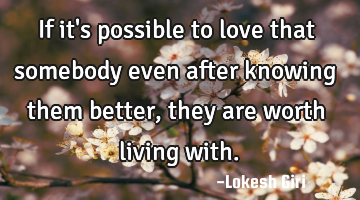 If it's possible to love that somebody even after knowing them better, they are worth living..
Love
Living
Worth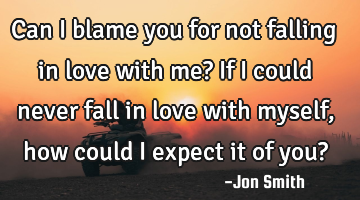 Can I blame you for not falling in love with me? If I could never fall in love with myself, how..
Forgiveness Loneliness Love Philosophy Romantic
Love