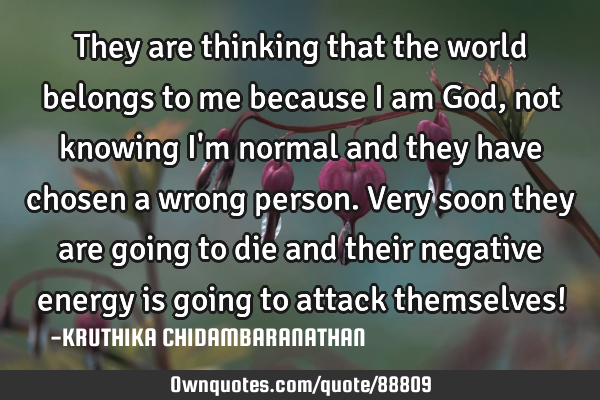 They are thinking that the world belongs to me because I am God,not knowing I'm normal and they have chosen a wrong person.Very soon they are going to die and their negative energy is going to attack themselves! -KRUTHIKA CHIDAMBARANATHAN
Published On: August 29th 2016, Monday @ 9:36:29 AM
Total Number of Views: 110
More Quotes Like this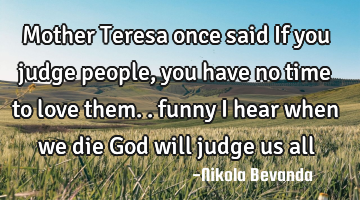 Mother Teresa once said If you judge people, you have no time to love them.. funny I hear when we..
Death Faith God Religion Truth
Love
People
God
Time
Die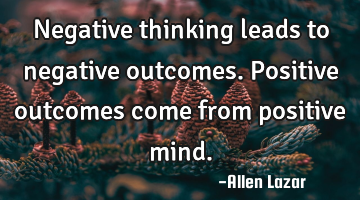 Negative thinking leads to negative outcomes. Positive outcomes come from positive..
Philosophy Success Truth Wisdom mind
Mind
Thinking
Positive
Life may go on, but how do any of us know that the world won't cease to exist when we die for..
Life Philosophy Short Truth Wisdom
Life
Know
World
Die
Exist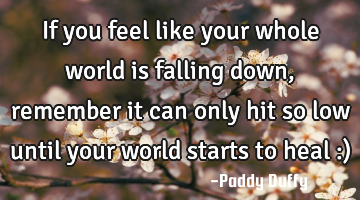 If you feel like your whole world is falling down, remember it can only hit so low until your world..
Change Confidence Truth Wisdom
World
Feel
Remember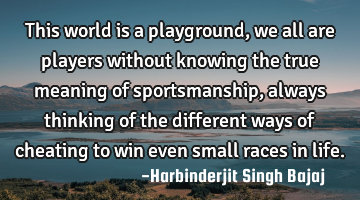 This world is a playground, we all are players without knowing the true meaning of sportsmanship,..
Life
World
Different
Thinking
Knowing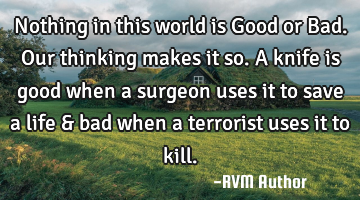 Nothing in this world is Good or Bad. Our thinking makes it so. A knife is good when a surgeon uses..
Life
World
Bad
Thinking
Kill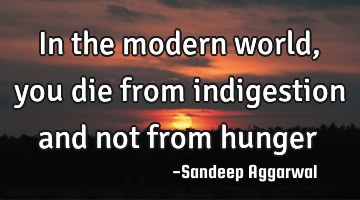 In the modern world, you die from indigestion and not from..
World
Die
Maturity is not the ability to think positively, but to attain the state of thoughtlessness. The..
Courage Faith Forgiveness God Hope
God
Think
Moment
Positive
Miss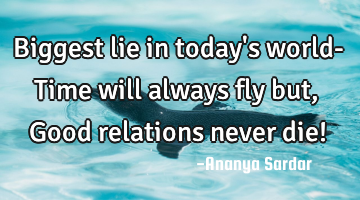 Biggest lie in today's world- Time will always fly but, Good relations never die!..
World
Time
Die
Lie
Fly
That fish do great in water does not make the sea a paradise for birds; you have got to find where..
Find
Water