Look around! People have faces with no smiles, as if they are carrying heavy baggage. Stop them! Give them a SMILE and see them Light up. -RVM Author
Published On: September 21st 2016, Wednesday @ 11:19:01 PM
Total Number of Views: 119
Categories: Inspirational
More Quotes Like this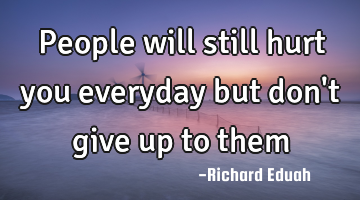 People will still hurt you everyday but don't give up to them..
Forgiveness Freedom Inspirational Short
People
Give
Hurt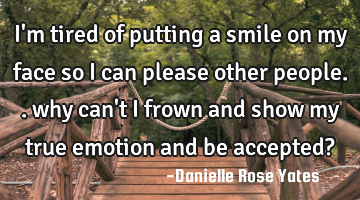 I'm tired of putting a smile on my face so I can please other people.. why can't I frown and show..
Anger Hate Loneliness Sad Fear
People
Smile
Face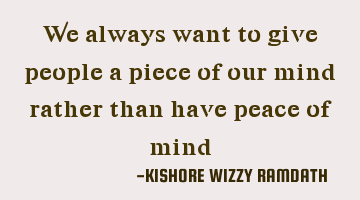 We always want to give people a piece of our mind rather than have peace of..
People
Want
Mind
Peace
Give
Never ever give such importance to anyone that you stop giving importance to..
Business Desire Friendship Love Marriage
Give
Stop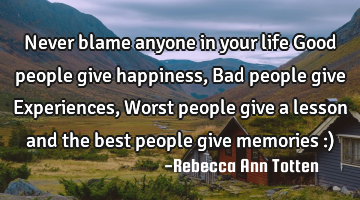 Never blame anyone in your life Good people give happiness, Bad people give Experiences, Worst..
Education Family Friendship Life Relationship
Life
People
Give
Bad
Happiness
Most people cannot see beauty because they look at it from their eyes instead of their..
People
Heart
Look
Beauty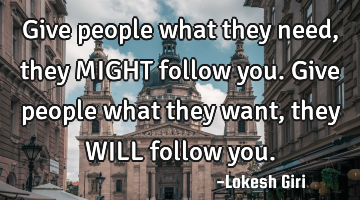 Give people what they need, they MIGHT follow you. Give people what they want, they WILL follow..
People
Want
Need
Give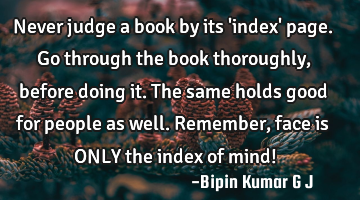 Never judge a book by its 'index' page. Go through the book thoroughly, before doing it. The same..
People
Mind
Face
Remember
The moment you stop treating people like people, that's the moment you lose..
People
Stop
Moment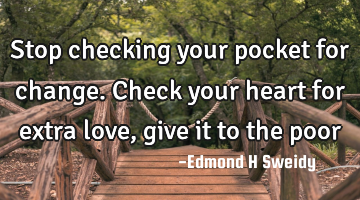 Stop checking your pocket for change. Check your heart for extra love, give it to the..
Love
Heart
Give
Change
Stop