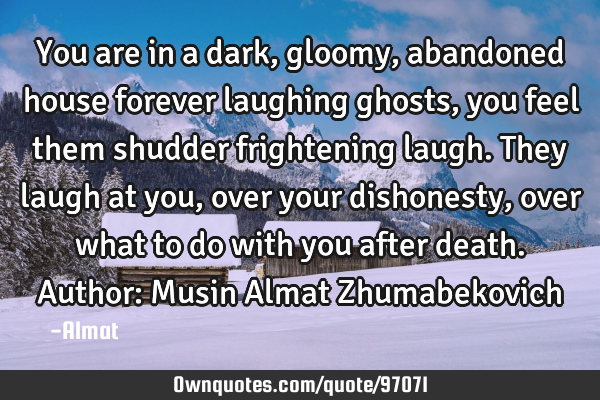 You are in a dark, gloomy, abandoned house forever laughing ghosts, you feel them shudder frightening laugh. They laugh at you, over your dishonesty, over what to do with you after death. Author: Musin Almat Zhumabekovich -Almat
Published On: December 20th 2016, Tuesday @ 6:49:01 AM
Total Number of Views: 95
Categories: Creativity Death Philosophy Wisdom
More Quotes Like this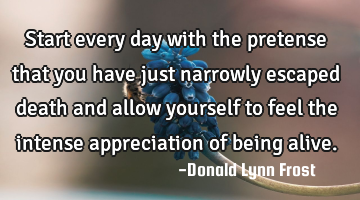 Start every day with the pretense that you have just narrowly escaped death and allow yourself to..
Being
Day
Feel
Death
Alive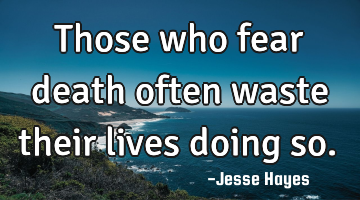 Those who fear death often waste their lives doing..
Death Faith Life Philosophy Religion
Death
Fear
Waste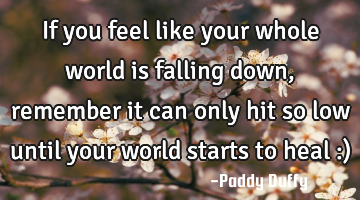 If you feel like your whole world is falling down, remember it can only hit so low until your world..
Change Confidence Truth Wisdom
World
Feel
Remember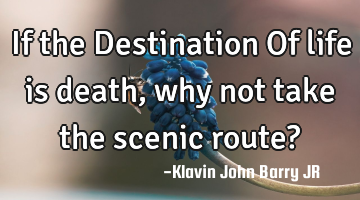 If the Destination Of life is death, why not take the scenic route?..
Life
Death
When you are in front of the mirror in the DARK, Put some light on your face not on..
Light
Face
Dark
Mirror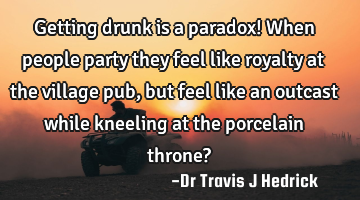 Getting drunk is a paradox! When people party they feel like royalty at the village pub, but feel..
Confidence Inspirational Optimism Philosophy Wisdom
People
Feel
I know more about life than I do about death, HENCE, I will not be crippled by the fear of death; I..
Death Life Philosophy Fear Positive Attitude
Life
Know
Death
Fear
The most chilling realization is becoming aware that nothing is forever, there by appreciating and..
Day
Beautiful
Forever