Dream Bravely. Find fearlessness inside of you. Dare, and fear will falter. Challenge, and fear will flee. This is the beginning of your dream-making -Carew Papritz
Author's Comments: Carew Papritz, The Legacy Letters: His Wife, His Children, His Final Gift
Published On: February 02nd 2015, Monday @ 9:43:25 AM
Total Number of Views: 167
Categories: Dreams Inspirational Life Optimism Fear
Keywords: Find Fear Dream Beginning Challenge
More Quotes Like this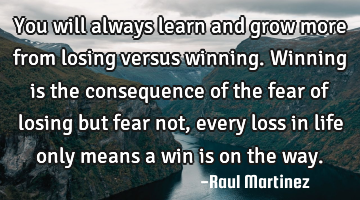 You will always learn and grow more from losing versus winning. Winning is the consequence of the..
Inspirational Life Philosophy Wisdom Fear
Life
Way
Learn
Fear
Grow
An idea without a plan is nothing more than a..
Dreams Goal Inspirational Life Philosophy
Dream
Idea
Don't live in the shadow of fear, because fear might be the only thing stopping you from realizing..
Fear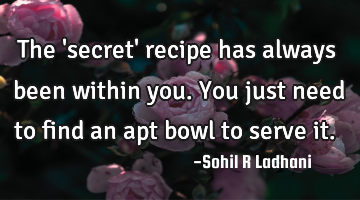 The 'secret' recipe has always been within you. You just need to find an apt bowl to serve..
Change Confidence Desire Dreams Goal
Need
Find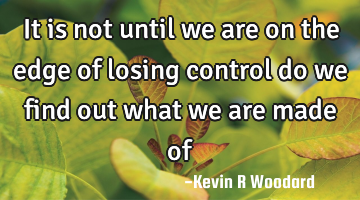 It is not until we are on the edge of losing control do we find out what we are made..
Courage Dreams Freedom Happiness Inspirational
Find
Control
Losing
That fish do great in water does not make the sea a paradise for birds; you have got to find where..
Find
Water
Your dreams come true when you're brave enough to sacrifice your current reality for the one you..
Dreams Inspirational Philosophy Success Wisdom
Living
Reality
I know more about life than I do about death, HENCE, I will not be crippled by the fear of death; I..
Death Life Philosophy Fear Positive Attitude
Life
Know
Death
Fear