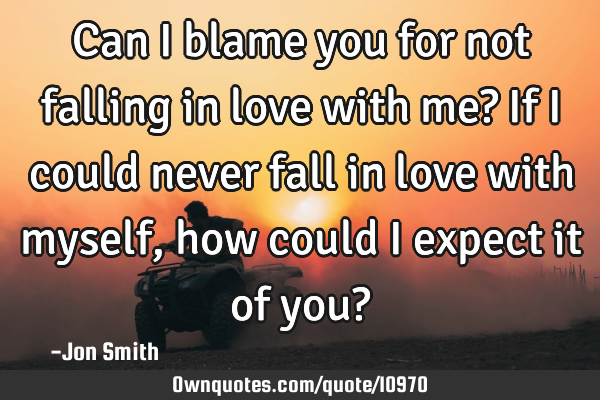 Can I blame you for not falling in love with me? If I could never fall in love with myself, how could I expect it of you? -Jon Smith
Published On: June 05th 2012, Tuesday @ 6:37:56 AM
Total Number of Views: 202
Categories: Forgiveness Loneliness Love Philosophy Romantic Sad
Keywords: Love Expect
More Quotes Like this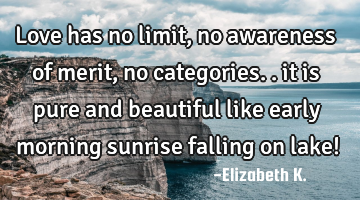 Love has no limit, no awareness of merit, no categories.. it is pure and beautiful like early..
Love
Beautiful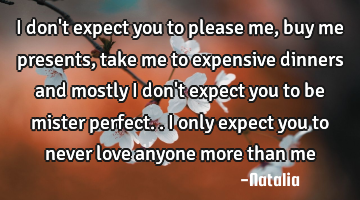 I don't expect you to please me, buy me presents, take me to expensive dinners and mostly I don't..
Love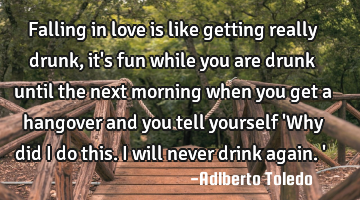 Falling in love is like getting really drunk, it's fun while you are drunk until the next morning..
Desire Funny Life Love Marriage
Love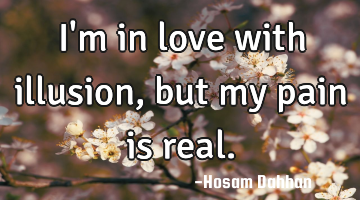 I'm in love with illusion, but my pain is..
Heart Life Loneliness Love Relationship
Love
Pain
Love will die if held too tightly , love will fly if held too..
Love Philosophy Relationship Short
Love
Die
Love is communication without obstacle, understanding without prejudice, and consideration without..
Love Philosophy Relationship Romantic Wisdom
Love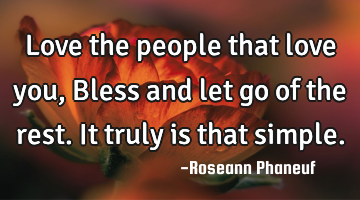 Love the people that love you, Bless and let go of the rest. It truly is that..
Desire Dreams Happiness Love Peace
Love
People
Resentment is an impediment where love is supposed to..
Forgiveness Hate Love Short One liners
Love