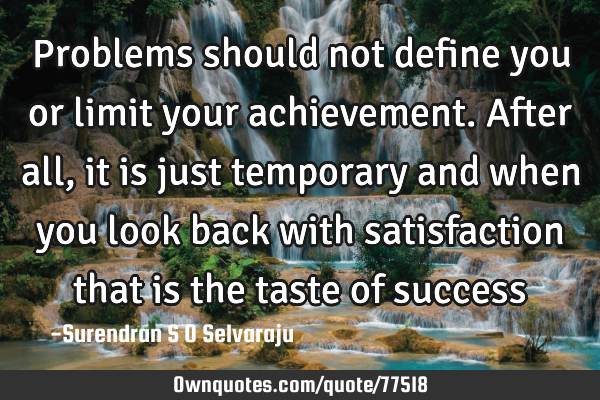 Problems should not define you or limit your achievement. After all, it is just temporary and when you look back with satisfaction that is the taste of success -Surendran s o Selvaraju
Published On: February 29th 2016, Monday @ 7:00:30 PM
Total Number of Views: 121
Categories: Inspirational Success
Keywords: Success Look
More Quotes Like this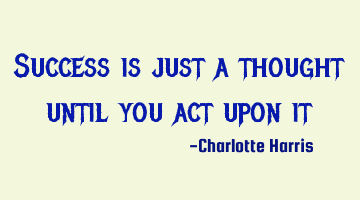 Success is just a thought until you act upon..
Business Change Goal Short Success
Success
Thought
Act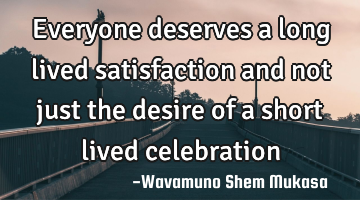 Everyone deserves a long lived satisfaction and not just the desire of a short lived..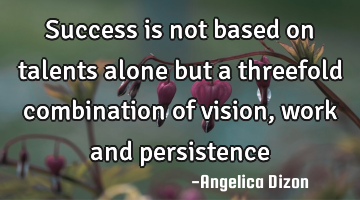 Success is not based on talents alone but a threefold combination of vision, work and..
Change Desire Dreams Faith Goal
Success
Work
Alone
Success is getting up one more time than you have been knocked..
Inspirational Short Sports Success One liners
Time
Success
Success is not happiness, this truth you must know. You may have everything, but what's the use of..
Happiness Inspirational Success Truth
Know
Truth
Success
Happiness
Smile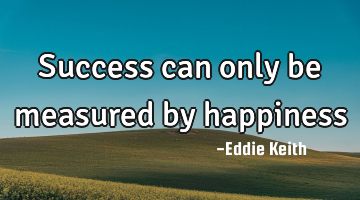 Success can only be measured by..
Happiness Inspirational Short Success One liners
Success
Happiness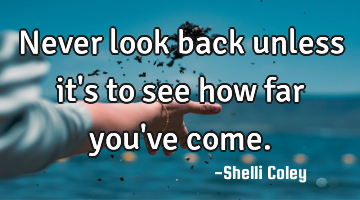 Never look back unless it's to see how far you've..
Change Confidence Inspirational Optimism Success
Look
Success starts in the womb and ends in the..
Imagination Inspirational Life Optimism Success
Success
Life and success is an immortal race, there is no finish..
Goal Inspirational Opportunity Success Wisdom
Life
Success