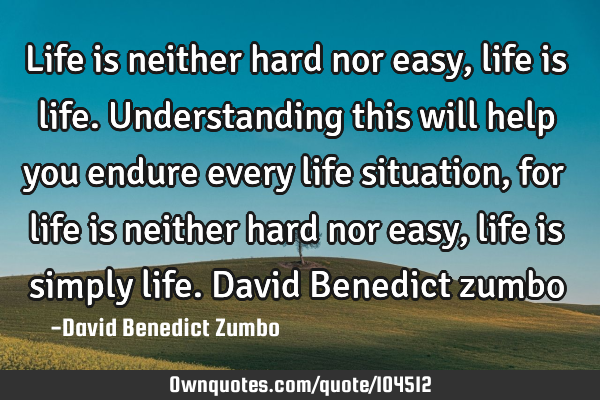 Life is neither hard nor easy, life is life. Understanding this will help you endure every life situation, for life is neither hard nor easy, life is simply life. David Benedict zumbo -David Benedict Zumbo
Published On: March 04th 2017, Saturday @ 7:57:08 AM
Total Number of Views: 84
Categories: Inspirational Life Philosophy Truth Wisdom
More Quotes Like this
Be careful when you put your mouth on people. What they're going through today that you're..
Change Life Philosophy Truth Wisdom
People
Today
Tomorrow
Life is what you make it. Your imagination is the only thing that will place you at a better stage..
Inspirational Life Success Truth Wisdom
Life
Place
Life is truly short but it is a blessing when spent for a..
Inspirational Life Philosophy Relationship Truth
Life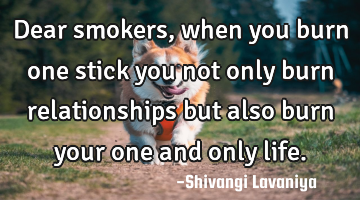 Dear smokers, when you burn one stick you not only burn relationships but also burn your one and..
Life Philosophy Relationship Truth Wisdom
Life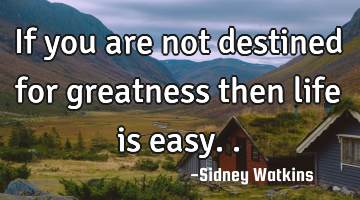 If you are not destined for greatness then life is..
Dreams Faith Goal Inspirational Leadership
Life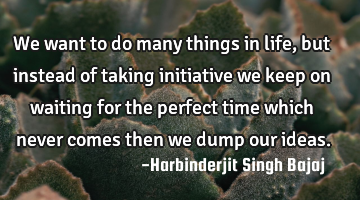 We want to do many things in life, but instead of taking initiative we keep on waiting for the..
Inspirational Life Opportunity Truth
Life
Time
Want
Keep
Waiting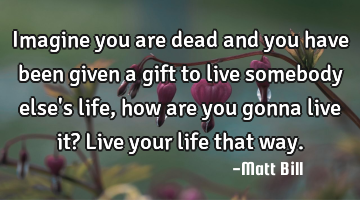 Imagine you are dead and you have been given a gift to live somebody else's life, how are you gonna..
Life
Way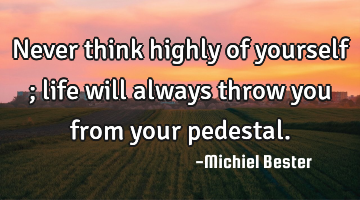 Never think highly of yourself ; life will always throw you from your..
Business Life Short Success Truth
Life
Think