Conversations with Josh And Tsabayal (20 of 33) Josh: Your power is omnipotent! Your power is divine!... - Joshua Aaron Guillory -Joshua Aaron Guillory
Published On: May 12th 2018, Saturday @ 10:03:51 AM
Total Number of Views: 30
Categories: Freedom Happiness Love Peace Truth
More Quotes Like this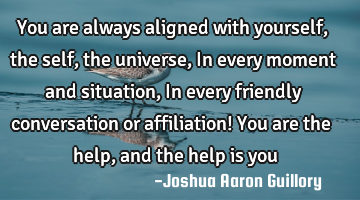 You are always aligned with yourself, the self, the universe, In every moment and situation, In..
Freedom Happiness Love Peace Truth
Self
Help
Moment
Universe
Situation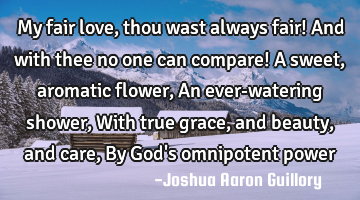 My fair love, thou wast always fair! And with thee no one can compare! A sweet, aromatic flower, An..
Love
Care
Power
Beauty
Sweet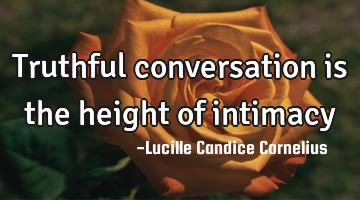 Truthful conversation is the height of..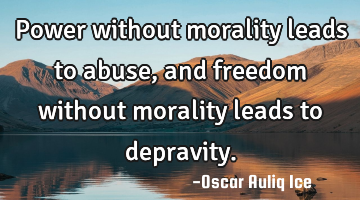 Power without morality leads to abuse, and freedom without morality leads to..
Power
Freedom
I hate when people say 'love is blind'. Love gives you the power to see what others can'..
Love
People
Hate
Power
Divine Goodness Resides in Your Soul, it is the Essence of Your Being, it Saves You from turmoil,..
Life Love Philosophy Truth Wisdom
Being
Soul
Existence
Goodness
Without GOODNESS, there is no Love. Love is determined by the embodiment of Divine GOOD; GOODNESS..
Love
Soul
Goodness