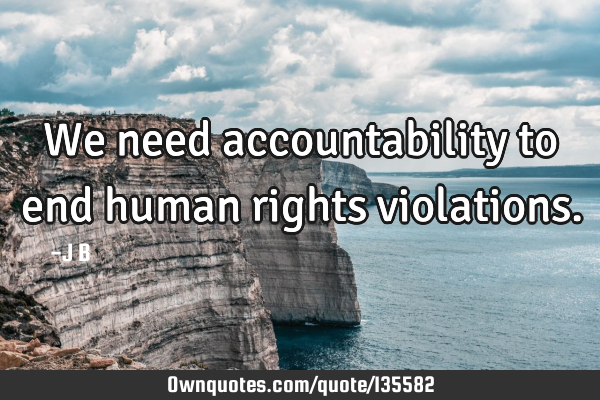 We need accountability to end human rights violations. -J B
Published On: June 09th 2018, Saturday @ 3:18:28 PM
Total Number of Views: 28
Categories: Politics Time Truth
Keywords: Need Human Rights Keyphrases: Human Rights Violations
More Quotes Like this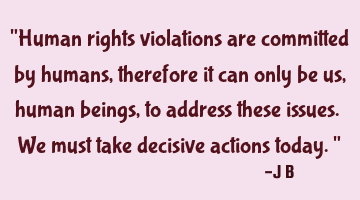 Human rights violations are committed by humans, therefore it can only be us, human beings, to..
Courage Freedom Hope Life Peace
Human
Today
Rights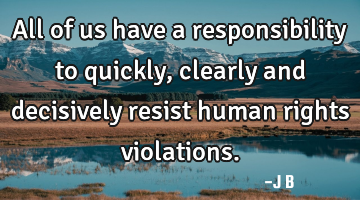 All of us have a responsibility to quickly, clearly and decisively resist human rights..
Patriotism Peace Politics Time Truth
Human
Rights
The lack of political process and political will to end human rights violations continues to be the..
Peace Philosophy Politics Time Truth
Peace
Human
Single
Rights
Process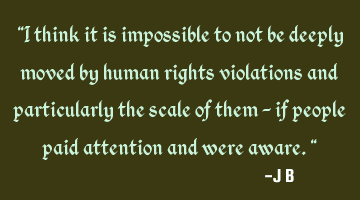 I think it is impossible to not be deeply moved by human rights violations and particularly the..
People
Think
Human
Impossible
Rights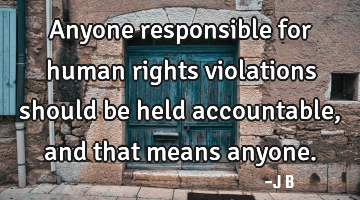 Anyone responsible for human rights violations should be held accountable, and that means..
Human
Rights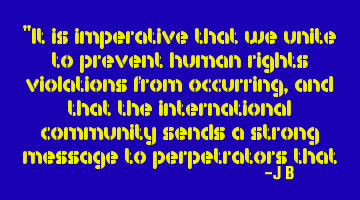 It is imperative that we unite to prevent human rights violations from occurring, and that the..
Change Goal Patriotism Politics Time
Human
Strong
Rights
It is time to further our collective action to end human rights violations for..
Change Peace Politics Time Truth
Time
Human
Action
Rights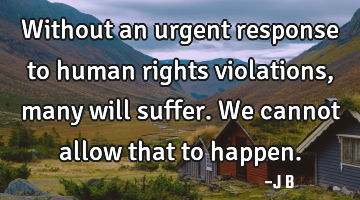 Without an urgent response to human rights violations, many will suffer. We cannot allow that to..
Human
Happen
Rights
We absolutely must combat human rights violations in all its forms and address the conditions..
Opportunity Peace Politics Time Truth
Human
Rights