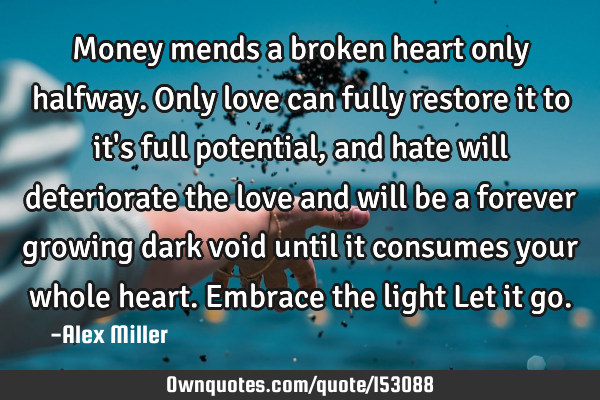 Money mends a broken heart only halfway. Only love can fully restore it to it's full potential, and hate will deteriorate the love and will be a forever growing dark void until it consumes your whole heart. Embrace the light Let it go. -Alex Miller
Published On: March 03rd 2019, Sunday @ 8:44:49 PM
Total Number of Views: 32
Categories: Inspirational Love Philosophy heart break
Keywords: Love Heart Money Hate Forever Light Broken Dark Embrace Potential Consume Mend
More Quotes Like this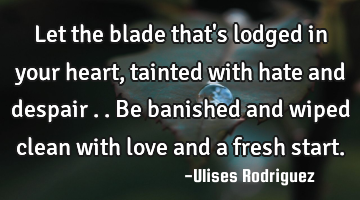 Let the blade that's lodged in your heart, tainted with hate and despair .. Be banished and wiped..
Anger Forgiveness Hate Heart Love
Love
Heart
Hate
Your eyes lead you through the light but your heart will guide you through the..
Heart
Light
Dark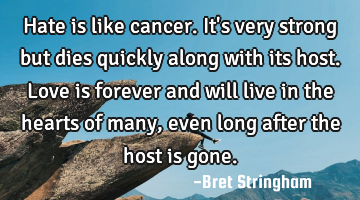 Hate is like cancer. It's very strong but dies quickly along with its host. Love is forever and..
Hate Heart Hope Inspirational Love
Love
Hate
Forever
Strong
Love is the path of light, hate is the path of darkness. With love you lead a happy life. With Hate..
Love
Life
Happy
Hate
Light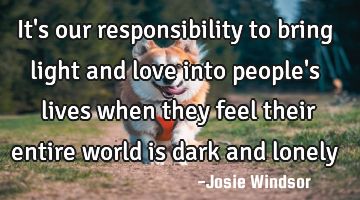 It's our responsibility to bring light and love into people's lives when they feel their entire..
Love
World
Feel
Light
Bring