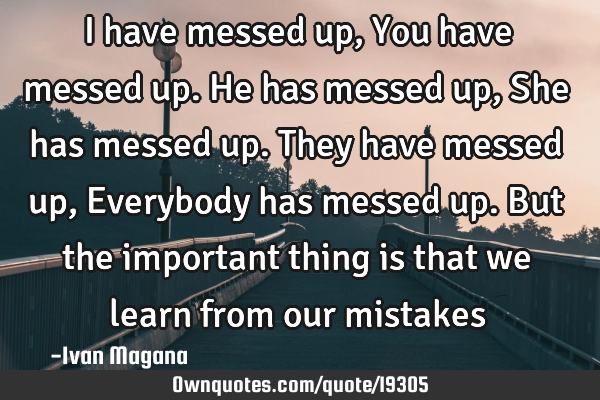 I have messed up, You have messed up. He has messed up, She has messed up. They have messed up, Everybody has messed up. But the important thing is that we learn from our mistakes -Ivan Magana
Published On: April 06th 2013, Saturday @ 7:25:56 PM
Total Number of Views: 149
Categories: Education Life Truth Wisdom
Keywords: Learn
More Quotes Like this
Success is what you achieve, and beauty what you inherit. So it's up to you, you give importance to..
Life Love Marriage Opportunity Relationship
Time
Give
Success
Beauty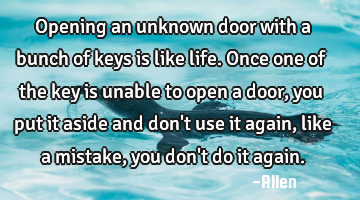 Opening an unknown door with a bunch of keys is like life. Once one of the key is unable to open a..
Life
Open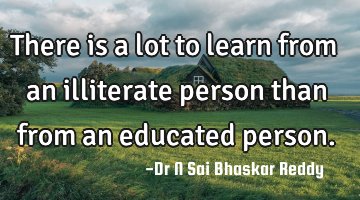 There is a lot to learn from an illiterate person than from an educated..
Learn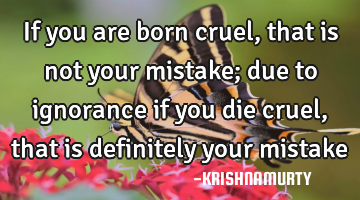 If you are born cruel, that is not your mistake; due to ignorance if you die cruel, that is..
Inspirational Life Success Truth Wisdom
Die
Born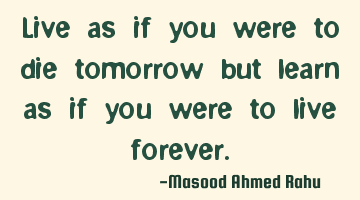 Live as if you were to die tomorrow but learn as if you were to live..
Learn
Die
Forever
Tomorrow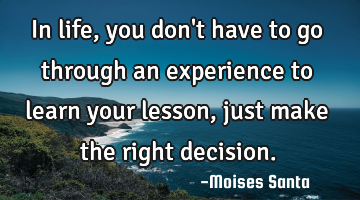 In life, you don't have to go through an experience to learn your lesson, just make the right..
Life
Learn
Experience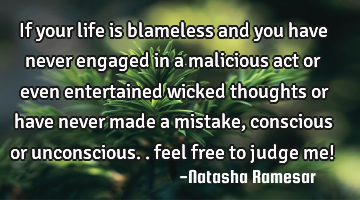 If your life is blameless and you have never engaged in a malicious act or even entertained wicked..
Life
Feel
Act