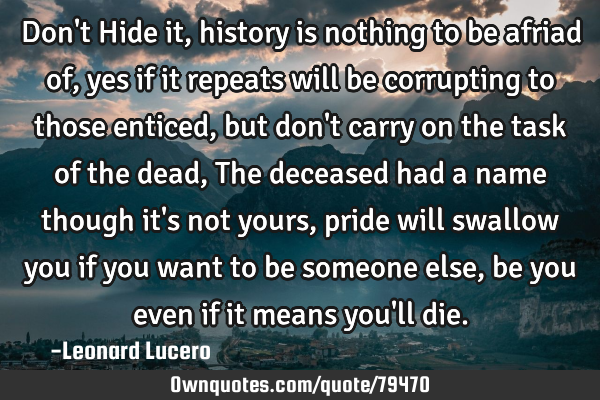 Don't Hide it, history is nothing to be afriad of, yes if it repeats will be corrupting to those enticed, but don't carry on the task of the dead, The deceased had a name though it's not yours, pride will swallow you if you want to be someone else, be you even if it means you'll die. -Leonard Lucero
Published On: April 09th 2016, Saturday @ 3:45:19 PM
Total Number of Views: 104
Categories: Death History Leadership Philosophy Time Truth Wisdom
More Quotes Like this
Pride is a lie for I would want to talk about. Pride is a power for I am eager to possess. Pride is..
Love
Want
Death
Die
Power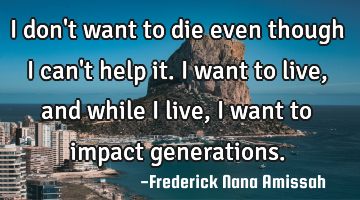 I don't want to die even though I can't help it. I want to live, and while I live, I want to impact..
Want
Die
Help
Why do you want to give up now, When you want to conquer..
Philosophy Truth Wisdom Motivational
Want
Give
Tomorrow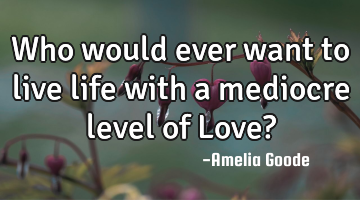 Who would ever want to live life with a mediocre level of Love?..
Life Love Philosophy Truth Wisdom
Love
Life
Want
Life may go on, but how do any of us know that the world won't cease to exist when we die for..
Life Philosophy Short Truth Wisdom
Life
Know
World
Die
Exist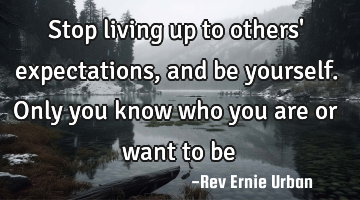 Stop living up to others' expectations, and be yourself. Only you know who you are or want to..
Inspirational Life Philosophy Truth Wisdom
Know
Want
Stop
Living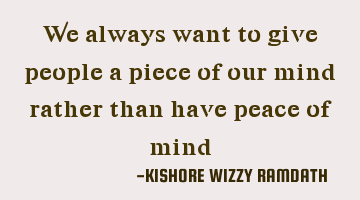 We always want to give people a piece of our mind rather than have peace of..
People
Want
Mind
Peace
Give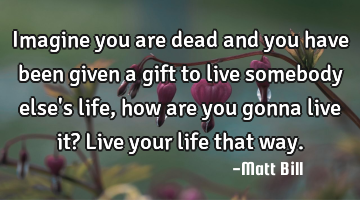 Imagine you are dead and you have been given a gift to live somebody else's life, how are you gonna..
Life
Way
Dead
Gift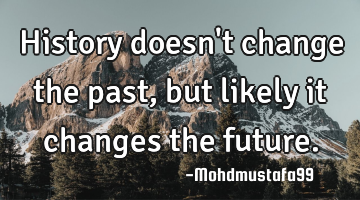 History doesn't change the past, but likely it changes the..
Change
Future
Past
History