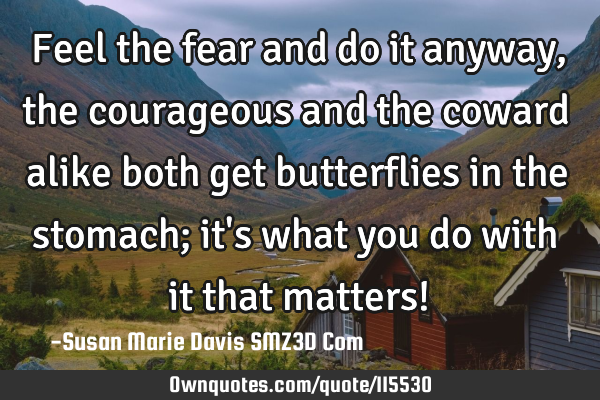 Feel the fear and do it anyway, the courageous and the coward alike both get butterflies in the stomach; it's what you do with it that matters! -Susan Zammikiel
Published On: August 04th 2017, Friday @ 8:36:59 PM
Total Number of Views: 63
Categories: Confidence Courage Optimism Wisdom Fear
More Quotes Like this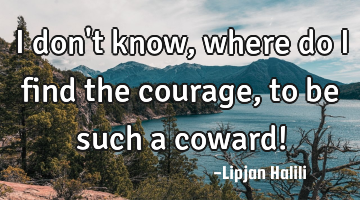 I don't know, where do I find the courage, to be such a coward!..
Anger Courage Failure Funny Life
Know
Find
Courage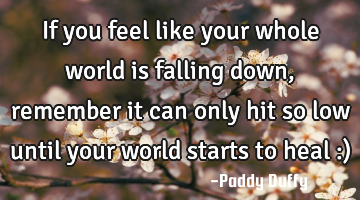 If you feel like your whole world is falling down, remember it can only hit so low until your world..
Change Confidence Truth Wisdom
World
Feel
Remember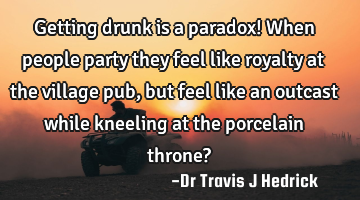 Getting drunk is a paradox! When people party they feel like royalty at the village pub, but feel..
Confidence Inspirational Optimism Philosophy Wisdom
People
Feel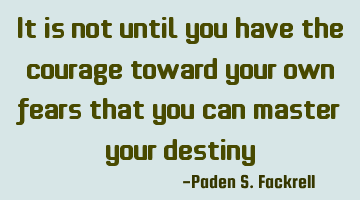 It is not until you have the courage toward your own fears that you can master your..
Courage Dreams Freedom Wisdom Fear
Courage
Destiny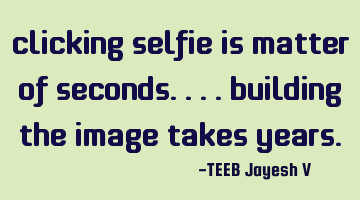 Clicking selfie is matter of seconds.. .. building the image takes..
Matter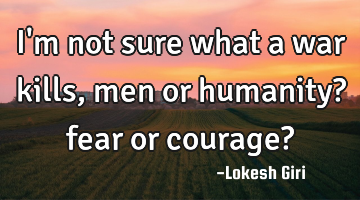 I'm not sure what a war kills, men or humanity? fear or courage?..
Fear
Men
War
Courage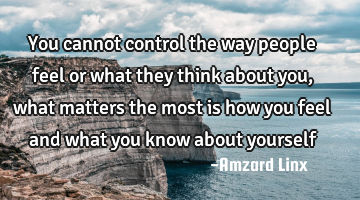 You cannot control the way people feel or what they think about you, what matters the most is how..
Confidence Goal Imagination Inspirational Wisdom
People
Know
Way
Think
Feel
We humans fear the unknown, therefore the fear of being alone is the fear of..
Freedom Loneliness Relationship Short Witty
Being
Fear
Self
Alone