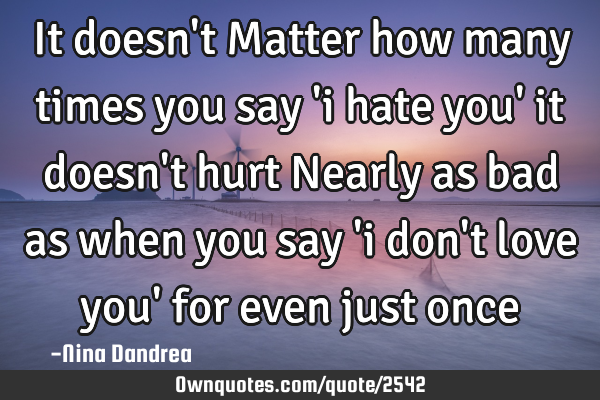 It doesn't Matter how many times you say 'i hate you' it doesn't hurt Nearly as bad as when you say 'i don't love you' for even just once -nina dandrea
Published On: November 25th 2010, Thursday @ 9:26:50 AM
Total Number of Views: 238
Keywords: Love Bad Matter Hate Hurt Near Time Keyphrases: Love You I Hate Doesn't Matter
More Quotes Like this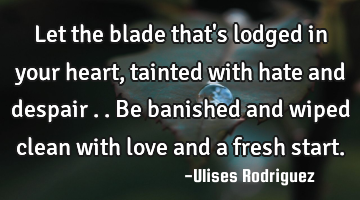 Let the blade that's lodged in your heart, tainted with hate and despair .. Be banished and wiped..
Anger Forgiveness Hate Heart Love
Love
Heart
Hate
I hate when people say 'love is blind'. Love gives you the power to see what others can'..
Love
People
Hate
Power
Love is the path of light, hate is the path of darkness. With love you lead a happy life. With Hate..
Love
Life
Happy
Hate
Light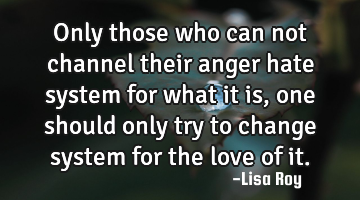 Only those who can not channel their anger hate system for what it is, one should only try to..
Love
Change
Try
Hate
Anger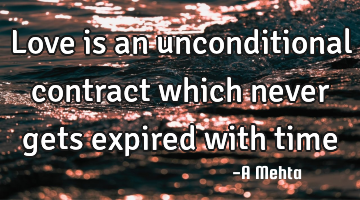 Love is an unconditional contract which never gets expired with..
Love
Time