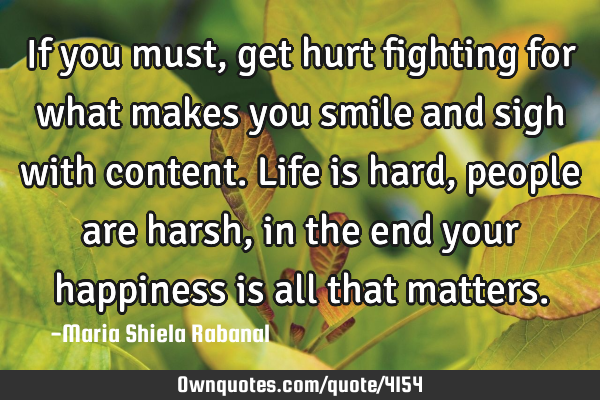 If you must, get hurt fighting for what makes you smile and sigh with content. Life is hard, people are harsh, in the end your happiness is all that matters. -Maria Shiela Rabanal
Published On: March 23rd 2011, Wednesday @ 3:46:32 AM
Total Number of Views: 284
Categories: Life
Keywords: Life People Happiness Smile Hurt Keyphrases: In The End
More Quotes Like this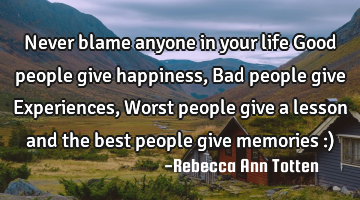 Never blame anyone in your life Good people give happiness, Bad people give Experiences, Worst..
Education Family Friendship Life Relationship
Life
People
Give
Bad
Happiness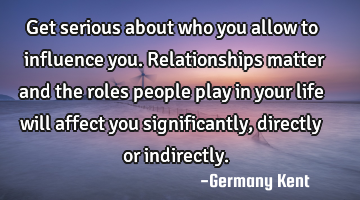 Get serious about who you allow to influence you. Relationships matter and the roles people play in..
Life Philosophy Relationship Truth Wisdom
Life
People
Matter
Play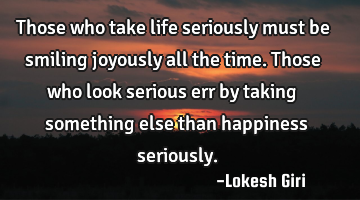 Those who take life seriously must be smiling joyously all the time. Those who look serious err by..
Life
Time
Look
Happiness
Taking
If you want people to remember you a certain way, then live your life the way you want to be..
Life
People
Want
Way
Remember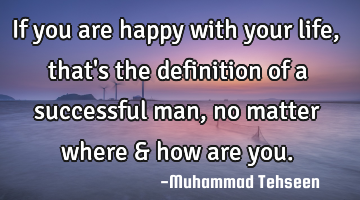 If you are happy with your life, that's the definition of a successful man, no matter where & how..
Desire Dreams Happiness Life Success
Life
Happy
Matter
Successful
When you're happy with the little things in life.. that's true..
Life
Happy
Happiness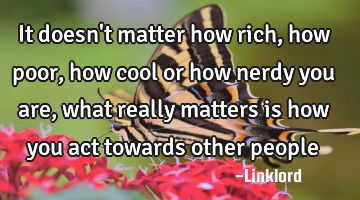 It doesn't matter how rich, how poor, how cool or how nerdy you are, what really matters is how you..
People
Matter
Act
Poor
Rich