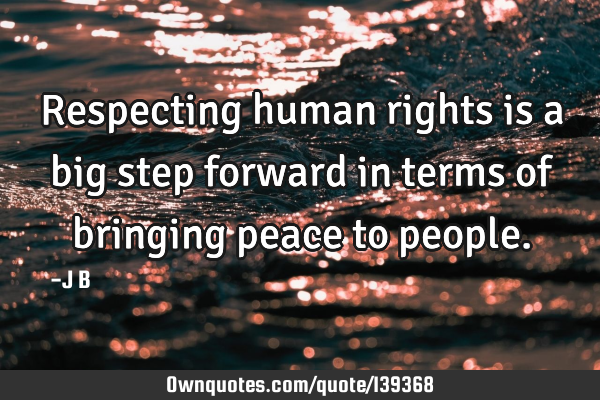 Respecting human rights is a big step forward in terms of bringing peace to people. -J B
Published On: August 20th 2018, Monday @ 1:08:06 PM
Total Number of Views: 29
Categories: Peace
Keywords: People Peace Human Rights
More Quotes Like this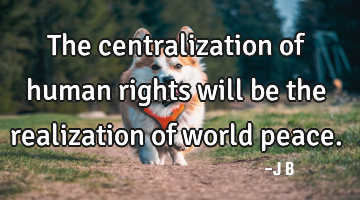 The centralization of human rights will be the realization of world..
Opportunity Peace Philosophy Politics Truth
World
Peace
Human
Rights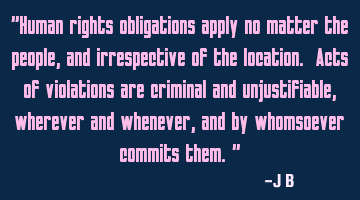 Human rights obligations apply no matter the people, and irrespective of the location. Acts of..
People
Human
Matter
Rights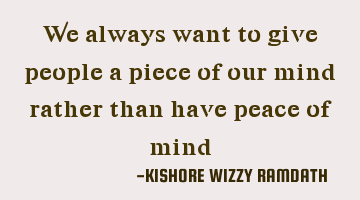 We always want to give people a piece of our mind rather than have peace of..
People
Want
Mind
Peace
Give
I stand in solidarity with hundreds of millions of suffering people. And I am with them every step..
People
Way
Human
Together
Bring
It is imperative that respect for human rights is assured throughout our communities so that all..
People
Human
Matter
Respect
Society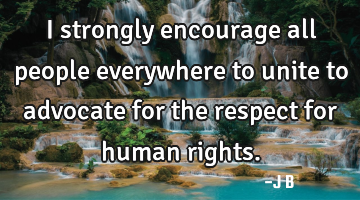 I strongly encourage all people everywhere to unite to advocate for the respect for human..
People
Human
Respect
Rights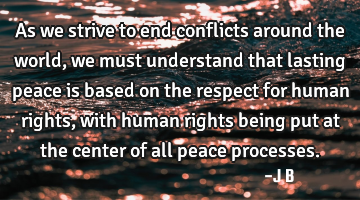 As we strive to end conflicts around the world, we must understand that lasting peace is based on..
World
Being
Peace
Human
Understand