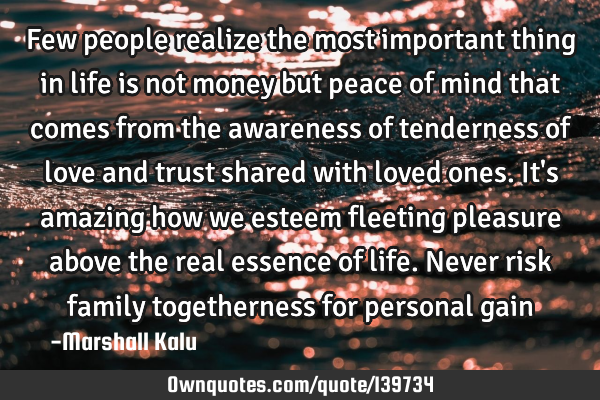 Few people realize the most important thing in life is not money but peace of mind that comes from the awareness of tenderness of love and trust shared with loved ones. It's amazing how we esteem fleeting pleasure above the real essence of life. Never risk family togetherness for personal gain -Marshall kalu
Published On: August 24th 2018, Friday @ 7:25:42 PM
Total Number of Views: 1111
Categories: Family
Keywords: Love Life People Mind Peace Money Trust Realize Family Awareness Gain Risk Importance Love Share Tender
More Quotes Like this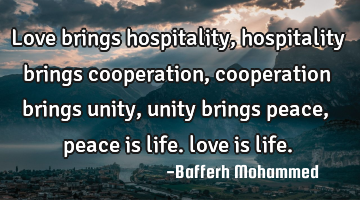 Love brings hospitality, hospitality brings cooperation, cooperation brings unity, unity brings..
Love
Life
Peace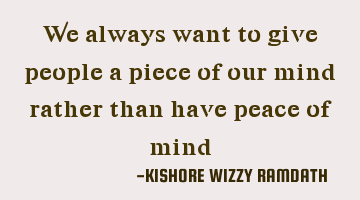 We always want to give people a piece of our mind rather than have peace of..
People
Want
Mind
Peace
Give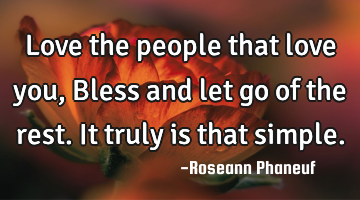 Love the people that love you, Bless and let go of the rest. It truly is that..
Desire Dreams Happiness Love Peace
Love
People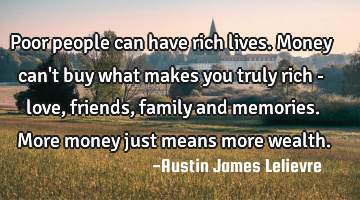 Poor people can have rich lives. Money can't buy what makes you truly rich - love, friends, family..
Love
People
Money
Family
Poor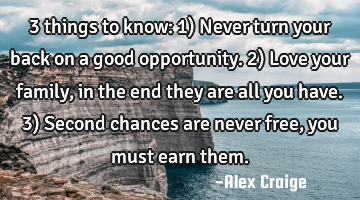 3 things to know: 1) Never turn your back on a good opportunity. 2) Love your family, in the end..
Love
Know
Family
Second
Opportunity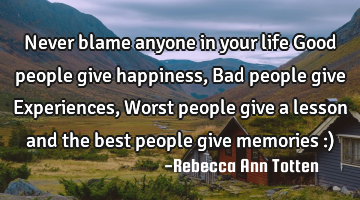 Never blame anyone in your life Good people give happiness, Bad people give Experiences, Worst..
Education Family Friendship Life Relationship
Life
People
Give
Bad
Happiness
The true essence of family resides in the amount of time spent together and not the amount of..
Time
Together
Family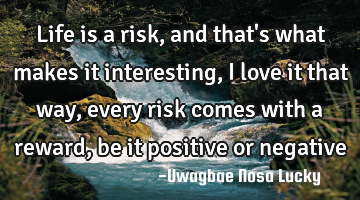 Life is a risk, and that's what makes it interesting, I love it that way, every risk comes with a..
Love
Life
Way
Positive