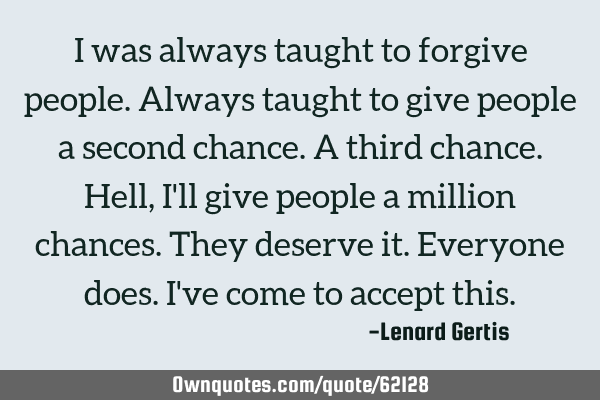 I was always taught to forgive people. Always taught to give people a second chance. A third chance. Hell, I'll give people a million chances. They deserve it. Everyone does. I've come to accept this. -Lenard Gertis
Published On: May 28th 2015, Thursday @ 7:07:12 AM
Total Number of Views: 117
Categories: Life Philosophy
Keywords: People Give Hell Accept Chance Second Forgive Deserve
More Quotes Like this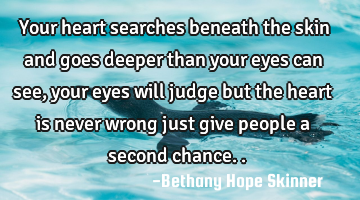 Your heart searches beneath the skin and goes deeper than your eyes can see, your eyes will judge..
Friendship Life Patience Relationship Truth
People
Heart
Give
Wrong
Chance
When life goes easy, take it hard; Because life may not offer you a second..
Life
Chance
Second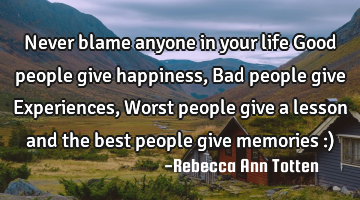 Never blame anyone in your life Good people give happiness, Bad people give Experiences, Worst..
Education Family Friendship Life Relationship
Life
People
Give
Bad
Happiness
Unlike the Future, History doesn't give you a second chance!..
Failure History Inspirational Leadership Opportunity
Give
Future
Chance
Second
History
Sometimes, some people and some situations deserve a second..
Love Relationship Truth Wisdom heart break
People
Chance
Second
Deserve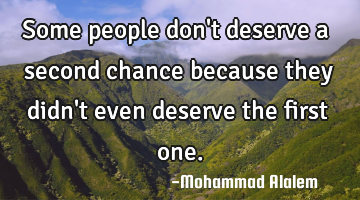 Some people don't deserve a second chance because they didn't even deserve the first..
Failure Relationship Short Truth
People
Chance
Second
Deserve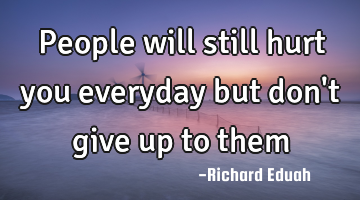 People will still hurt you everyday but don't give up to them..
Forgiveness Freedom Inspirational Short
People
Give
Hurt
Everyday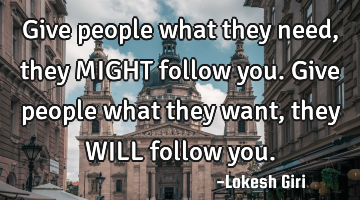 Give people what they need, they MIGHT follow you. Give people what they want, they WILL follow..
People
Want
Need
Give
Live like a candle, so that you can give light to the people who live in the..
Change Confidence Inspirational
People
Give
Light
Dark