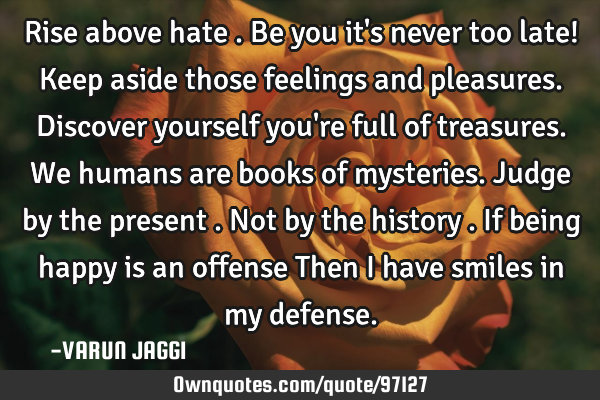 Rise above hate . Be you it's never too late! Keep aside those feelings and pleasures. Discover yourself you're full of treasures. We humans are books of mysteries. Judge by the present . Not by the history . If being happy is an offense Then I have smiles in my defense. -VARUN JAGGI
Published On: December 20th 2016, Tuesday @ 11:15:14 PM
Total Number of Views: 101
Categories: Confidence Courage Inspirational Leadership Life
More Quotes Like this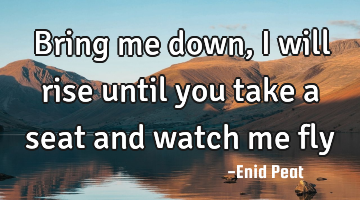 Bring me down, I will rise until you take a seat and watch me..
Confidence Courage Faith Hope Inspirational
Bring
Every human being on this planet has miscarriage of success, have courage to take responsibility of..
Change Confidence Courage Creativity Desire
Being
Success
Human
Failure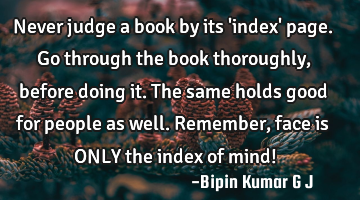 Never judge a book by its 'index' page. Go through the book thoroughly, before doing it. The same..
People
Mind
Face
Remember
Challenges do not make us strong or weak; they simply make us discover who we really are; either..
Courage Faith Hope Imagination Life
Strong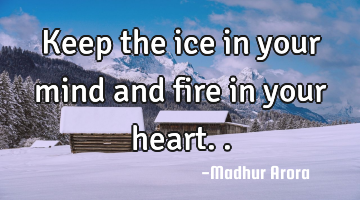 Keep the ice in your mind and fire in your..
Confidence Faith Inspirational Leadership Short
Heart
Mind
Keep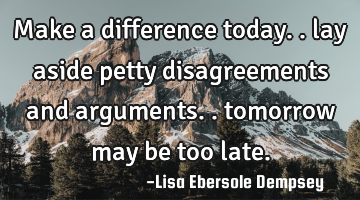 Make a difference today.. lay aside petty disagreements and arguments.. tomorrow may be too..
Family Forgiveness Friendship Inspirational Leadership
Today
Tomorrow
Difference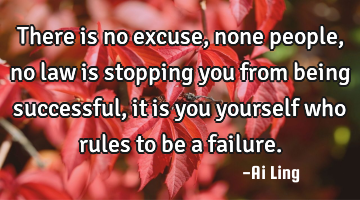 There is no excuse, none people, no law is stopping you from being successful, it is you yourself..
Confidence Courage Inspirational Leadership
People
Being
Failure
Successful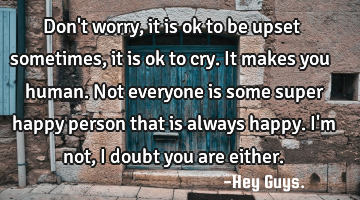 Don't worry, it is ok to be upset sometimes, it is ok to cry. It makes you human. Not everyone is..
Happy
Human
Cry