You are the source of my happiness. You give me reason to breath again, make me smile once more and make me believe that life is still worth living.. I cannot afford to lose you for in you I learn to stand up. I manage to live again knowing that you are there to hold me, guide me and support me. I will never loose grip in you because you are the source of strength and a reason of my sanity.. -zindy
Published On: August 09th 2010, Monday @ 10:46:05 PM
Total Number of Views: 19386
Categories: Courage Desire Heart Hope Inspirational Life Love
Keywords: Life Give Believe Happiness Learn Smile Living Reason Worth Hold Knowing Strength Breath Keyphrases: To Lose
More Quotes Like this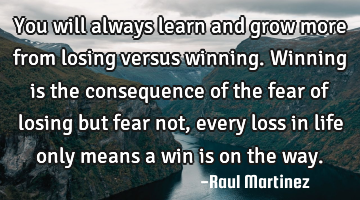 You will always learn and grow more from losing versus winning. Winning is the consequence of the..
Inspirational Life Philosophy Wisdom Fear
Life
Way
Learn
Fear
Grow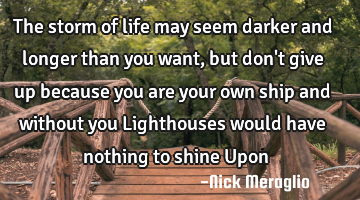 The storm of life may seem darker and longer than you want, but don't give up because you are your..
Confidence Desire Dreams Hope Inspirational
Life
Want
Give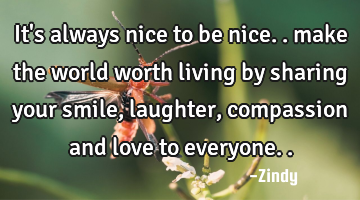 It's always nice to be nice.. make the world worth living by sharing your smile, laughter,..
Love
World
Smile
Living
Worth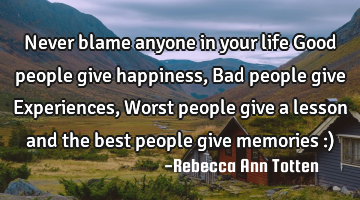 Never blame anyone in your life Good people give happiness, Bad people give Experiences, Worst..
Education Family Friendship Life Relationship
Life
People
Give
Bad
Happiness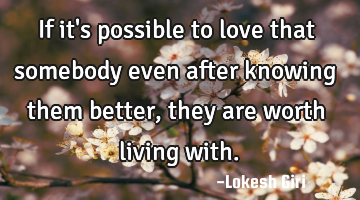 If it's possible to love that somebody even after knowing them better, they are worth living..
Love
Living
Worth
Knowing
Possible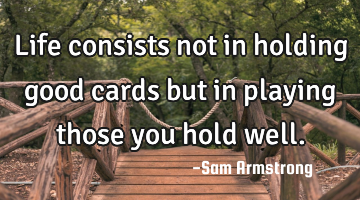 Life consists not in holding good cards but in playing those you hold..
Life
Hold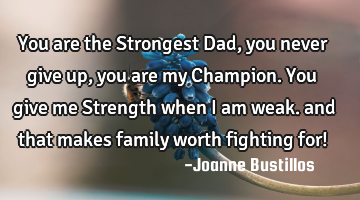 You are the Strongest Dad, you never give up, you are my Champion. You give me Strength when I am..
Confidence Family Heart Hope Inspirational
Give
Worth
Family
Strength
Weak